Gallery: Scott C's Great Showdowns For The 85th Annual Academy Awards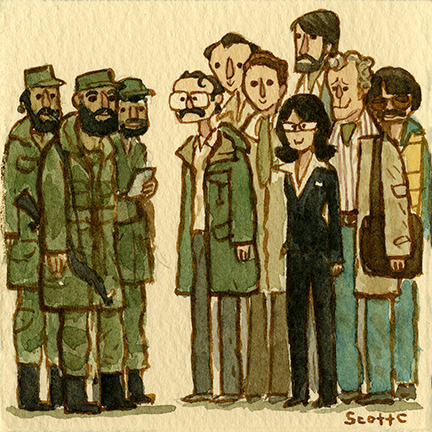 2013 seems to be the year of Oscar-themed pop culture art. Gallery 1988 did an amazing event, Mondo is preparing their own extravaganza and Scott Campbell has been adding to his Great Showdowns.
All this week leading up to the 85th Annual Academy Awards, Campbell has been immortalizing some of this year's Best Picture nominees as Showdowns. And they are just too cool. That's Argo above but, after the jump, see Beasts of the Southern Wild, Lincoln, Les Miserables and Django Unchained as only Scott C could do them.
For tons more Great Showdowns by Scott C, visit his Great Showdowns website. And follow him on Twitter next week for even more Oscar-nominated showdowns.
Which is your favorite? I think mine is Argo, just because he has so many characters to do and so perfectly shows the key dramatic scene of the movie. Then again, that Django is bad ass too.