Lake Bell's Movie Trailer Voice-Over Comedy 'In A World' Gets Distribution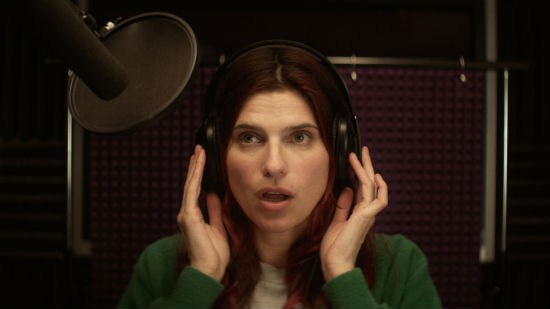 Sundance 2013 ended almost a month ago, but some of its films are still riding the wave of popularity that rose during the fest. The latest is In A World, the directorial debut of Lake Bell, which tells the hilarious story of a young woman breaking into the competitive world of movie trailer voice-overs. Roadside Attractions will distribute the film in the US and Sony will handle international markets. Read our review here.
Bell not only directed but wrote and stars in the film, along with Demetri Martin, Michaela Watkins, Nick Offerman and Tig Notaro. It won the Waldo Salt Screenwriting Award at the festival. 
Here's the press release for the acquisition of In A World...
Following a jubilant debut at the 2013 Sundance Film Festival and a competitive pursuit by distributors, Roadside Attractions acquired U.S. rights, while Sony Pictures Worldwide Acquisitions (SPWA) acquired International rights, to comic charmer IN A WORLD..., written and directed by Lake Bell. Roadside Attractions is planning a summer 2013 release for the film. The film premiered to rave reviews in Sundance's prestigious Dramatic Competition category and garnered Bell the Waldo Salt Screenwriting Award, whose past recipients include Christopher Nolan for Memento as well Debra Granik and Anne Rosellini for Winter's Bone.
Writer/director Lake Bell (IT'S COMPLICATED, WHAT HAPPENS IN VEGAS) stars alongside Rob Corddry and Ken Marino, two of her co-stars on Adult Swim's Emmy award-winning CHILDREN'S HOSPITAL, as well as Demetri Martin, Fred Melamed, Michaela Watkins, Nick Offerman, Tig Notaro and Alexandra Holden. The film was produced by Eddie Vaisman and Mark Roberts of 3311 Productions alongside Jett Steiger and Bell. Ross Jacobson and Sean O'Grady of 3311 Productions served as executive producers.
"In a world...where everyone loves a good laugh, Lake's film represents the introduction of a major new comedic voice – a 21st Century Carole Lombard," said Roadside Co-President Howard Cohen. "We think audiences around the country are going to love it as much as we and the audiences at Sundance did."
"I've already been spoiled with my unforgettable experience at Sundance, but now, to be working with Roadside as well as Sony to release the film is an embarrassment of riches," stated Lake Bell. "I'm so honored they share my enthusiasm."
IN A WORLD... takes a hilarious look at the cutthroat culture of movie trailer voice-over artists. Carol Solomon (Bell), a young female voice coach, joins the all-male race to land the white-hot new trailer of a blockbuster trilogy, and with it lay claim to the legendary trailer catchphrase "In a world..." In doing so, she must battle ingrained industry sexism, ridiculously self-important competitors and even her own father, Sam Sotto (Fred Melamed), a legendary voice-over artist who can't bring himself to recognize his daughter's talent.
The U.S. deal was brokered by Roadside Attractions' Co-President Howard Cohen and the International deal by SPWA's EVP of Business Affairs, Michael Helfand, SVP of Acquisitions, Joe Matukewicz, and VP of Business Development, Jon Freedberg. UTA Independent Film Group negotiated the deal on behalf of production.