Help Upgrade A Unique Movie House: Contribute To The Brattle Theatre Kickstarter Campaign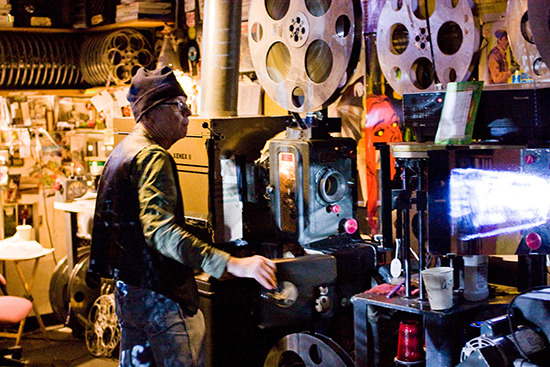 We don't think much about the expense incurred when theaters have to upgrade or change their equipment to stay current with new exhibition technology. It's one thing to assume that upgrading is simply a matter of course for chains like Regal and AMC, but for operators of single theaters, making the move to digital is no easy task.
That move to digital is essential today, as studios phase out 35mm prints and move to exhibition based on Digital Cinema Packages (DCP) for restorations of classics as well as runs of new movies.
For the Brattle Theatre in Cambridge, MA, strong programming of classic movies has been a tradition for decades. But the theater has a very unique 35mm rear-projection setup that must be upgraded to handle new DCP releases, in addition to other very old infrastructure that needs updating. (The projection booth is pictured above — the image is projected from behind the screen.)
And so the theater is running a Kickstarter campaign to raise money to make the move to digital projection and install a new system to keep audiences comfortable. They've passed the halfway mark, but still need help. 
Here's the Brattle's video, laying out the reason for the campaign:
Here's how the staff explains the campaign, and the reason that they're looking to raise a pretty hefty $140k.
The image and the space. Those are the two most important parts of running a cinema. And both of them are in serious need of updating at the Brattle.
The Brattle has seen many changes in the industry over the past 60 years. And against all odds it has survived. It survived the rise of television, the invention of home video, the rise of the multi-plex and competition from on-demand viewing. Now, we are faced with the challenge of digital projection, a complete paradigm shift in the way films are presented. Which means that our entire projection system has to be upgraded to accommodate this new format.
Today, filmmakers and distributors are choosing to forgo making 35mm prints and making their films available digitally. And this is for classic film restorations as well as new releases. This year, it has become clear that we need to upgrade our projection systems in order to continue to screen the diverse selection of films that the Brattle is known for. And that means updating to a digital projection system that will provide the best screening quality and will be up to current industry standards.
For our HVAC system, it is simply getting old. This system heats and cools our 4,800 square foot cinema space. The unit is past its useful service life, works inefficiently, intermittently and is in imminent danger of failing.
Neither of these are small projects. And they both have to be completed this year.
I was first drawn to the theater while first exploring Harvard Square in 1990, when I saw the Brattle was running Raiders of the Lost Ark for one day. In the more than 20 years since, I've been elated to see more movies than I can count in the theater, from a full run of Jackie Chan '80s classics to the films of the Brothers Quay, and older films that I discovered at the time. Back when movies weren't always released in the proper aspect ratio on home video, I would wait to see certain classics because I knew they would be programmed at the Brattle sooner rather than later.
Today, the Brattle still fulfills that role for movie lovers. It's the place where, next month, you can see a Lubitch film like The Shop Around the Corner and then stick around for The ABCs of Death. It's the home for Boston-area premieres, like Upstream Color, coming up in April. It's a great place for movies, with a balcony and everything. Help them out if you can!
(Photo of Brattle projectionist Dave Leamon operating the 35mm changeover system by Brandon Constant.)