Cool Stuff: Amazingly Detailed Fan Created 'Ghostbusters' HQ Lego Set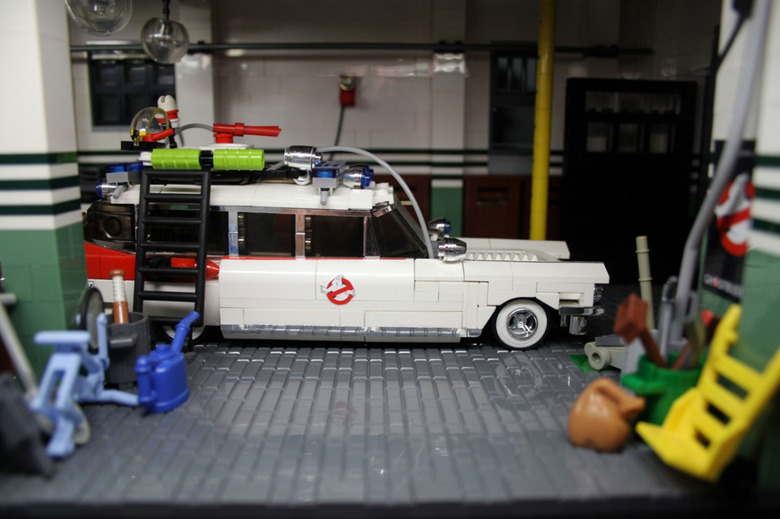 On the Internet, our capacity for amazement increases on a daily basis. It's so easy to find incredible things from talented, devoted people that creations like a hovercraft Back to the Future Delorean or an Empire Strikes Back Hoth room might just get a passing glance. We've seemingly seen it all. Yet even with that in mind, I'm still blown away by what people can do with Lego.
The latest example is a stunningly detailed, fully-furnished and accessorized headquarters from Ghostbusters. It's all there: The Ecto-1, the fire pole, Chinese food, containment unit, everything. Check out some images below.
The man behind this piece of work is Alex Jones, whose site can be viewed here. Head there to read more about the creation and see many more photos, especially of the Ecto-1. Here are just a few highlights.
Here's Jones talking about the development:
Two months of endless hours watching Ghostbusters 1 & 2 + the real Ghostbusters Animated show I can truly say I know a lot about the building at North Moore Street, New York City. The movie set was in Los Angeles and is seen in plenty of other movies while the outside of the building is in NY. Planning on the interior was a bit confusing in the beginning, because of the fact that in the movies you always see only the garage and first floor. When I played the GHOSTBUSTERS game there are only two floors too, while on the outside the way the windows are, you know, there is the garage and two floors above. While watching the animated show I found out more about interior setups that would work with the model. So Egon's lab is one of the agreements I had to make. The attention to detail with some of the features was very important to me and I spend hours on planning through over and over again. The overall weight is about 15 kg and it took me around 2 months building. By far my most detailed building with full interior. So i guess you know who you gonna call now