Universal Confirms 'Snow White And The Huntsman' Sequel, Wants More Bourne, 'Fifty Shades Of Grey' For Mid-2014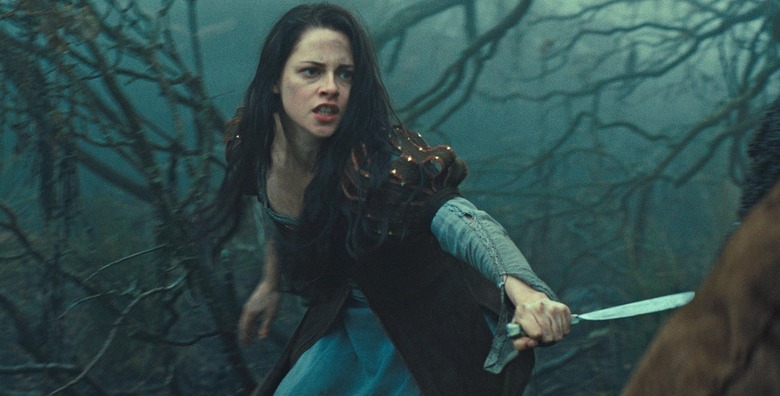 Universal is in an interesting position now. The studio is free of the contract with Hasbro that had it dedicated to developing board-game properties for some time, and has started to settle into a place where it floats on the performance of big comedies (Ted), the occasional well-chosen pop-culture adaptation (Les Miserables), and affordable franchise installments (Fast & Furious, Bourne) rather than massive tentpoles.
And so Universal is working on sequels to the giant hit Ted and horror performer Mama. In a new interview, studio chairman Adam Fogelson explains that he also may made an Identity Thief sequel ("we created great characters, so we'll discuss how to re-pair Jason [Bateman] and Melissa going forward") and an "at long last" film version of Wicked ("I believe that we are collectively moving toward Wicked coming to the screen sooner rather than later").
But the real focus is on those franchise installments, including another Snow White and the Huntsman movie, and the new Mummy and Van Helsing films.
THR spoke to Fogelson, who explained a few things about the studio's business. What follows is a collection of his key statements on a few different projects.
On the process of exploiting the old Universal monster properties at a time when superheroes are more profitable:
Universal monsters are probably the thing people most equate with our library. But monsters are not superheroes. Virtually every monster story is by definition a tragic story. We are developing another Mummy. We are looking at rebooting Van Helsing because I think the idea for the Van Helsing story was a great way of solving the question of, "How do you make a blockbuster out of monsters?"
The development of a Fifty Shades of Grey movie, based on the runaway bestseller, is aiming for a summer 2014 release, if possible:
I don't believe that [author EL James] had any interest in going to a studio where rushing it into production was the vision. I don't believe that the second or third film would have benefited from that strategy. And I think that there are totally legitimate questions about what this book is as a movie. I will tell you that it is an absolute priority for us. It's conceivable that we could be ready to release it as early as next summer.
Snow White and the Huntsman will get a sequel, and with Snow as the central character and the Huntsman as sidekick:
We're actively developing the movie right now with Kristen's character central, as well as the Huntsman role. We think that for a first movie out of the gate to do basically $400 million worldwide, there is a lot of opportunity. I don't think Rupert is pursuing the next Snow White as a directing opportunity.
Finally, Universal is also keen to pick up distribution on Seth MacFarlane's comedy western A Million Ways to Die, in which he'll star with Amanda Seyfried and Charlize Theron. The film will reunite the Ted team of financier Media Rights Capital, writers MacFarlane, Alec Sulkin, and Wellesley Wild, and producers Scott Stuber and Jason Clark.
Deadline reports that Universal wants in on the deal, and given how well Ted performed for the studio, it's easy to see that Universal could very well do what it must to have this one as well.