'9' Director Shane Acker To Make 'Beasts Of Burden' Comic Adaptation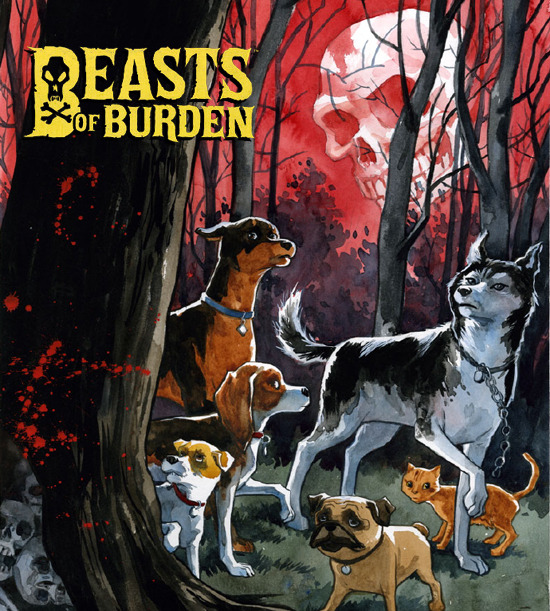 Where has Shane Acker been since his CG fantasy 9 hit theaters in 2009? Mostly, it seems that he's been doing pre-vis work at the company Third Floor as he develops other projects. One of those projects is a post-WWIII apocalypse adventure called Deep, with Valve Software involved, and there's a possible Thomas the Tank Engine movie, too. Now he's got a new animated feature on his list.
The project is Beasts of Burden, based on the Dark Horse Comics series written by Evan Dorkin and drawn by Jill Thompson. This one has been in development for a couple years, and Darren Lemke (Turbo, Shrek Forever After) is scripting. Reel FX is producing the CG-animated film that features a team of dogs (and one cat) dealing with supernatural occurences in a small town.
The press release announcing Acker's hire describes the story this way:
The project is an animated adventure about the baffling behavior (tail chasing, barking at "nothing" at all) of our favorite four-legged friends. In the charming town of Burden Hill, there might be more to these animal antics than meets the eye. The town is inhabited by the supernatural, and when its paranormal activity becomes even more abnormal than usual, it's up to a group of fearless canines called the Watch Dogs to protect its citizens – and humanity – from the mysterious things that go "bump" in the night.
Here's the rest of the relevant portions of the press release:
Acker is the latest filmmaker Reel FX has attracted to its growing animation slate, which already includes the Day of the Dead-themed project, The Book of Life (Guillermo del Toro producing/Jorge Gutierrez directing), which will be released in theaters by Fox Animation on October 10, 2014; and Turkeys (Jimmy Hayward directing, starring Owen Wilson and Woody Harrelson), which will be released in theaters on November 14, 2014 by Relativity Media.
Reel FX recently announced that Warner, the Academy Award-winning producer of the animated blockbusters Shrek, Shrek 2 and Shrek the Third, had joined the growing movie studio as President of Animation.
Warner notes, "Reel FX is continuing to partner with some of the leading filmmakers in animation. Shane is an immense talent and will bring his fresh vision and approach to this adaptation of 'Beasts of Burden.'"
Says Acker, "It's a pleasure to be working with such accomplished producers and filmmakers on this incredible project. There is a real independent spirit at Reel FX — the studio is full of energy and fresh ideas — which is necessary to bring this unique story to life."