New Details On Guillermo Del Toro's Haunted House Movie 'Crimson Peak, Plus New 'Pacific Rim' Images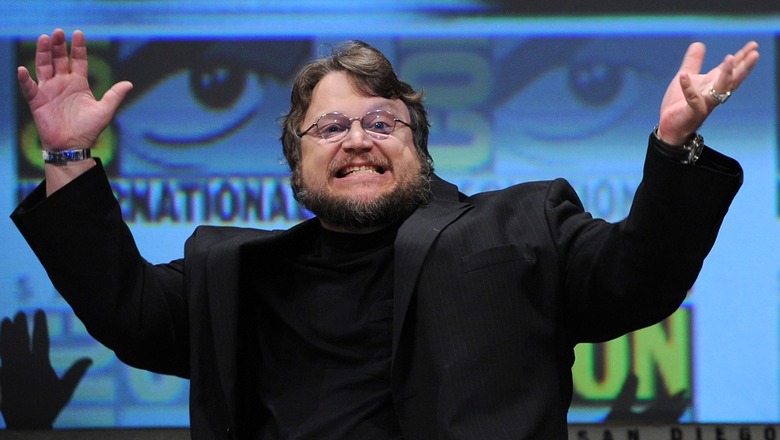 Guillermo del Toro's 2013 film, Pacific Rim, is looking good, but I'm almost more interested in his follow-up. The next project, Crimson Peak, will be the director's own version of the sort of haunted house movie that mostly went out of fashion years ago. Del Toro has talked about making the movie as a big-budget scare ride — something like The Haunting, or The Innocent, "with the house built magnificently," as he says of those films.Emma Stone and Charlie Hunnam are the leads in the film. We haven't known very much about what they'll be getting into other than, well, a haunted house. But now the director and co-writer has explained a bit more of the film. In the spirit of GDT's previous tales of ghosts and hauntings, it doesn't sound like merely a big event film.
The director explained the Crimson Peak setup to Total Film:
It's the turn of the century. So it's at the turn of the century and half of the movie takes place in America, and the other half takes place in a crumbling mansion in Cumbria. And basically it's a ghost story and gothic romance, trying to subvert the rules of the usual gothic romance...the first half is a love story, then that love story turns darker. And it's at the same time a ghost story. I'm working at this moment with Lucinda Clarkson who is a really great playwright from the UK. She has the proper degree of perversity and intelligence to turn it into something interesting to watch.
Just to refresh, there's this big quote from the director that originally explained in a general sense what he'll hope to achieve when production starts roughly a year from now:
To me [the classic old haunted house movie] is Robert Wise's The Haunting, which was a big movie, beautifully directed, with the house built magnificently. And the other grand daddy is Jack Clayton's The Innocents. I've always tried to make big sized horror movies like the ones I grew up watching. Films like The Omen, The Exorcist and The Shining, the latter of which is another Mount Everest of the haunted house movie. I loved the way that Kubrick had such control over the big sets he used, and how much big production value there was. I think people are getting used to horror subjects done as found footage or B-value budgets. I wanted this to feel like a throwback.
Long before we get to Crimson Peak, however, we'll see Pacific Rim. Two more images from the film are available today — one more piece of concept art to match what hit last week, and a small new still, as well.