Sequel Bits: 'Sin City: A Dame To Kill For', 'Riddick', 'Pacific Rim 2', 'Dawn Of The Planet Of The Apes', 'Anchorman: The Legend Continues', 'Star Trek Into Darkness'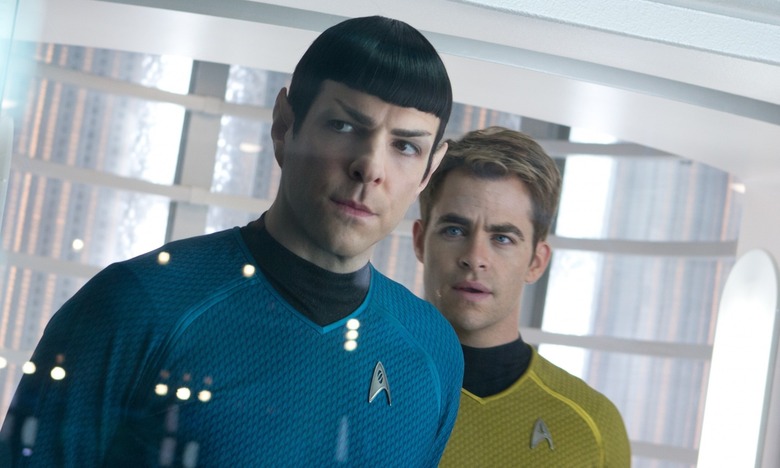 One thing's for sure about Benedict Cumberbatch's "John Harrison": He definitely has the evil villain voice down. No wonder Paramount is using his "you think your world is safe..." line for everything from TV promos to motion posters. Also after the jump:
Jessica Alba didn't think a Sin City sequel would happen
Director David Twohy is pleased about Riddick's R rating
Guillermo del Toro is already working on Pacific Rim 2
Rupert Wyatt reveals the real (if vague) reason he left Apes
Find out how to be an extra on Apes and/or Anchorman 2
Zachary Quinto talks tackling the iconic character of Spock
Star Trek Into Darkness reveals some nice high-res pics
I think like every six months to a year it was like "We're going to do it, when's the next one coming? Oh yeah, we're going to do it. We're going to do it. We're going to do it." And then at a certain point it was just like OK, I just didn't believe it. It was like "We're going to start in the summer, we're going to start in the fall" but then when we actually got the start date and I was there on the set it was like a dream.
Like the last film, Sin City: A Dame to Kill For will feature several distinct but overlapping storylines. While some of the plot arcs were adapted from Frank Miller's graphic novels, Alba revealed that hers had been written just for the movie.
Well this is– mine is an original story so there wasn't a lot to base it off of, but Frank has been drawing. So it's just crazy. It was neat to see their process, Robert and Frank's, and their collaboration and what they inspire from each other and get out of each other and what they're creating. It's really like the 2.0 version of Sin City and it's pretty amazing.
Alba concluded, "It's going to be rad." Sin City: A Dame to Kill For opens October 2. [Collider]
Speaking of films we were never quite sure would happen, David Twohy recently sat down with Total Film to discuss the long-gestating Riddick. The filmmaker discussed the freedom of an R rating.
If you make it PG-13, then you have to make concessions, and that's what happened on The Chronicles of Riddick where we had to downplay a lot of our action sequences and remove a lot of the blood. We found it was tying our hands, so we vowed not to do that.
With the toothless PG-13, Chronicles proved a box office disappointment and it took Twohy and Vin Diesel several years to get Riddick made. But Twohy says they've figured out how to work with the lower budget.
Had Universal said to us, "let's roll over, let's pick it up right at the end of the last movie" and funded it, we would have ventured into the Necromonger underverse and we would have had a big The Lord of the Rings-style movie on our hands. But that didn't happen, so cleverly Vin and I got the rights back and produced it ourselves on a smaller scale. That said, it still looks like a big movie. I think the audience will see the tip of the hat to Pitch Black, but they won't feel claustrophobic.
Riddick lands September 6. [via Comic Book Movie]
Guillermo del Toro's Pacific Rim won't premiere for another few months, but planning ahead is essential for a guy as busy as he is. So he and screenwriter Travis Beacham are already looking into a sequel. "Travis and I have been working on it. We co-wrote the screenplay on this first one, and now we're hard at work at doing the second one," he said.
That said, he and Beacham are trying not to rush things. "We want to take however long it takes to really find out the idea and try to bridge something that really makes the mythology roll," he revealed. "The great thing about Legendary is they're willing to take it to completion in the right way. They're giving us the leeway. Imagine that we're generating the comic book. We're learning more about the [Pacific Rim] world we're creating day by day."
The first Pacific Rim premieres July 12. [Total Film]
When an actor or filmmaker suddenly pulls out of a project, they usually cite one of two reasons: scheduling conflicts or creative differences. It looked like the former was behind Rupert Wyatt's surprising departure from Dawn of the Planet of the Apes last fall, with sources indicating that he was uncomfortable with the quick timetable Fox was demanding. But now, the filmmaker himself says it's really the latter that caused him to leave.
I had a take on the sequel which didn't marry with the studio's. Regardless, I was hired to direct Rise of the Planet of the Apes against all odds, and I was given that opportunity by a studio and producers who were prepared to take a chance on me. For that I'm very grateful.
Wyatt added that he'd not had any contact with Matt Reeves since the Let Me In director took over at the Apes helm, but seemed to wish him well. "Matt Reeves is a filmmaker, and a very good one," he said. [What Culture]
Meanwhile, Reeves' Dawn of the Planet of the Apes is preparing to shoot in New Orleans this spring, and that means they'll be looking for extras. Specifically, extras 18 and over of any ethnicity and gender. Before the Trailer has more details. Dawn of the Planet of the Apes takes over theaters on May 23.
Or, if retro newscasters are more your speed, Anchorman: The Legend Continues is also seeing background actors to play nurses, waitresses, and general groovy '70s types. The shoot is taking place in Atlanta March through May; Before the Trailer can fill you in on the details. The long-awaited comedy sequel arrives December 20.
Let's close out with some Star Trek-related odds and ends. Zachary Quinto's latest interview is light on Into Darkness plot details, but he's more than happy to talk about his personal experience portraying Spock.
I never felt any pressure from being a part of that franchise, I only felt supported and I only felt supported and I have only felt like my job is to get to work and be a part of something that people want to watch and want to see. That certainly was the case the first time around and I think it will be more the case this time, because it is such a bigger experience we shot this movie in 3D and IMAX and I think the story just lends itself to much more of an explosion onto the summer movie schedule scene. I am just really excited to get it out there and share it with people and I don't feel any particular individual pressure to doing anything other than my job and my job is already done I shot it in the first half of 2012, so I've been done for awhile and now the responsibility is in everybody else's hands to bring it all to life. J.J. [Abrams] is just a genius and everybody who works around him is incredibly talented at what they do, so I feel like people won't be disappointed, that is certainly my hope.
Read more at HuffPo.
The new "motion poster" for Star Trek Into Darkness looks just like the regular poster for Star Trek Into Darkness, only now the debris is animated and we can hear John Harrison (Benedict Cumberbatch) as well as see him.
Empire debuted the poster.
I believe most of these Star Trek Into Darkness images have been revealed before, but now they're here in sharp and shiny high-res form via Trek Movie.
If you think we have a lot of Star Trek Into Darkness tidbits now, just wait — the marketing is only bound to get heavier as we approach the film's May 17 due date.