Watch A Message From The Dean Of 'Monsters University' [Viral Video]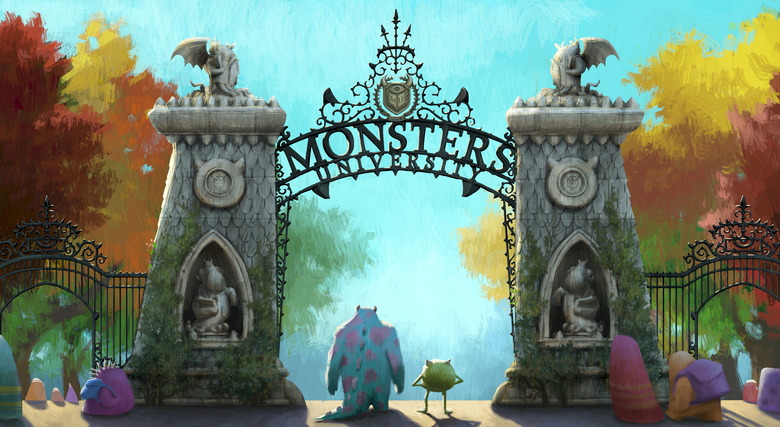 When we first encountered Mike (Billy Crystal) and Sulley (John Goodman) the pair were among the top employees Monsters, Inc. But just as humans don't ascend the ranks of Fortune 500 companies without hard work and some know-how, monsters need to learn the ropes before they can go on to prestigious careers in scaring. And that's where Monsters University comes in.
In a new viral video from Pixar, the school dean talks up the benefits of a Monsters University education. Turns out they aren't all that different from the advantages of a human college, except that instead of setting students up for jobs in finance or journalism or engineering, it prepares them for a lifetime of spooking little kids. Watch the message from the dean after the jump.
It makes sense that Pixar's marketing team would run with a college theme for this college-set film, but it's their total commitment to the joke that really sells it. The video above perfectly parodies real college recruitment ads (and in the process reminds us just how samey they all are), just as the Monsters University website looks exactly like an actual college website. Pixar's never been one to skimp on the details, and that applies to their ads as well as the movies themselves.
Anyway, it's at this hallowed institution of higher learning that future BFFs Mike and Sulley meet for the first time, though earlier trailers and clips indicate that their first meeting doesn't go so well. Monsters University opens its doors on June 21.
Mike Wazowski and James P. Sullivan are an inseparable pair, but that wasn't always the case. From the moment these two mismatched monsters met they couldn't stand each other. "Monsters University" unlocks the door to how Mike and Sulley overcame their differences and became the best of friends. Screaming with laughter and fun, "Monsters University" is directed by Dan Scanlon ("Cars," "Mater and the Ghostlight," "Tracy") and produced by Kori Rae ("Up," "The Incredibles," "Monsters, Inc.").