'Two Mothers' Trailer: BFFs Robin Wright And Naomi Watts Sleep With Each Other's Kids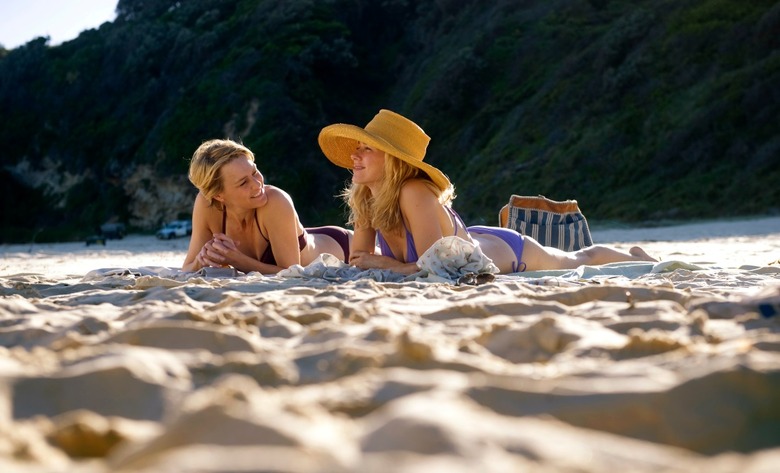 Imagine the Lonely Island video "Motherlover" as a sun-drenched literary drama, and you have the basic premise of Anne Fontaine's new film Two Mothers. Naomi Watts and Robin Wright star as two childhood pals living side-by-side on a gorgeous Australian beach, along with their strapping sons Ian (Xavier Samuel) and Tom (James Frecheville). Their lives are idyllic but lonely, and it's not long before the two women begin eyeing each other's sons with something more than motherly affection.
There's obvious potential for serious sleaze, but the film has some classy pedigree behind it. It's an adaptation of a novella by Nobel laureate Doris Lessing, and Fontaine approaches the material with an elegant eye. Toss in two acclaimed actresses, and, well... it still looks kind of trashy, but it could also be genuinely moving and thought-provoking. Watch the trailer after the jump.
Maybe I'm just prudish, but I couldn't quite get over the weirdness of these pseudo-incenstuous pairings. Of course, that may be the whole point. Commenting on arbitrary social and sexual barriers and what have you.
Reviews out of Sundance for Two Mothers were all over the map, but the overall impression isn't great. Film Threat was "shocked" by its terribleness, The New York Post called it "an early contender for worst film of 2013," and THR blasted it as "absurd." On the other end of the spectrum, though, were folks like Twitch, who called it "downright fascinating," and our very own Germain Lussier:
Two Mothers is a refreshing, honest & surprisingly beautiful drama. A bittersweet take on life, love & relationships.Great stuff. #sundance

— Germain Lussier (@GermainLussier) January 19, 2013
So maybe Vulture summed it up best when they decreed it "the best movie and the worst movie" of Sundance 2013. We'll get to judge for ourselves when Exclusive Releasing releases it in theaters, but it could be a little while yet as they haven't announced a date.
Discuss: I couldn't resist — here's the music video for SNL's "Motherlover." Compare and contrast.