Trailer Premiere: Doomsday Saves An Awkward Party In 'It's A Disaster'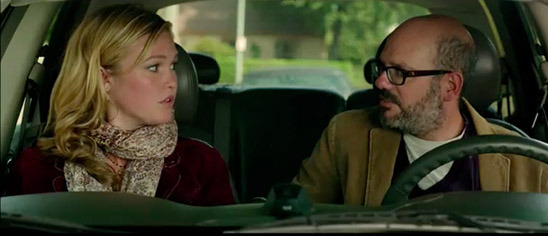 Ever been the new person at a small party where there are awkward tensions and undercurrents of conflict that you're aware of, but have no part in? That's where the character played by David Cross finds himself in Todd Berger's film It's a Disaster. Cross's character shows up to a "couples brunch" with his new girlfriend, played by Julia Stiles.
Things are obviously weird, and they progress to a point where a lot of people would wish for just about any excuse to get out of the situation. And then the attendees find out that the party might be their last. That changes the uncomfortable scenario just a bit, as decorum and inhibitions fully dissolve.
Check out a trailer below.
It's a Disaster hits VOD on March 5, and will be in theaters April 12.
Eight friends meet for their monthly "couples brunch." But what starts as an impromptu therapy session / airing of domestic grievances takes a sudden, catastrophic turn when the city falls victim to a mysterious attack. Trapped in the house and unsure of their fates, these seemingly normal people become increasingly unhinged to hilarious, surprising, and revealing results.
IT'S A DISASTER is a fast-paced ensemble comedy about the worst brunch ever: the eggs are cold, the tensions are high, and the end is near.