'Oblivion' Trailer #2: Human Wall-E Tom Cruise Goes Digging For Answers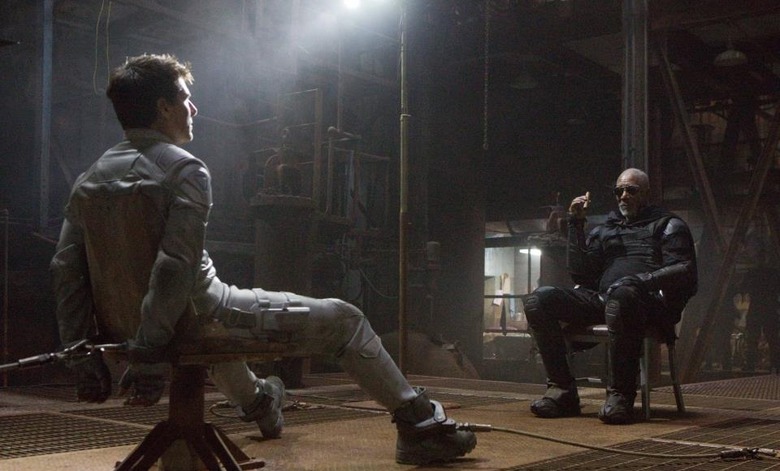 If the first trailer for Joseph Kosinski's Oblivion made Tom Cruise look like a human Wall-E, the second turns him into a more typical sci-fi action hero. Not that that's a bad thing. The new video offers a better idea of just why Jack is so intrigued by the mysterious woman (Olga Kurylenko) in the spacecraft, and what's at stake when he decides to go against orders. Hit the jump to watch.
Morgan Freeman sure knows how to make a dramatic entrance — and this in a movie where one of the other characters literally falls out of the sky.Oblivion seems to follow a lot of the same beats we've seen in other sci-fi movies, but it's got a strong cast and some fantastic visual effects going for it. Kosinski's vision of a post-apocalyptic Earth is austere but beautiful, and if the sky station looks a little Apple Store-esque and the underworld a bit Matrix-y, at least it all looks striking.
Written by Kosinski, Karl Gajdusek, and Michael Arndt based on Kosinski and Arvid Nelson's comic book, Oblivion opens April 19. Andrea Riseborough, Melissa Leo, and Nikolaj Coster-Waldau also star.
Tom Cruise stars in OBLIVION, an original and groundbreaking cinematic event from the director of TRON: Legacy and the producer of Rise of the Planet of the Apes. On a spectacular future Earth that has evolved beyond recognition, one mans confrontation with the past will lead him on a journey of redemption and discovery as he battles to save mankind.
Jack Harper (Cruise) is one of the last few drone repairmen stationed on Earth. Part of a massive operation to extract vital resources after decades of war with a terrifying threat known as the Scavs, Jacks mission is nearly complete.
Living in and patrolling the breathtaking skies from thousands of feet above, his soaring existence is brought crashing down when he rescues a beautiful stranger from a downed spacecraft. Her arrival triggers a chain of events that forces him to question everything he knows and puts the fate of humanity in his hands.