'Monsters University' Clip: Roommate Bonding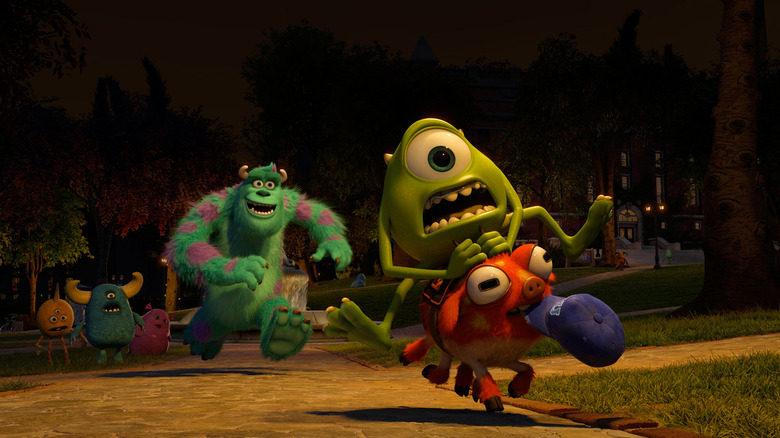 The Monsters University marketing has made no secret of the fact that eventual BFFs / business partners Mike (Billy Crystal) and Sulley (John Goodman) weren't such fast friends when they met in college. That's not so surprising considering how different their personalities are, but now a new clip reveals exactly how horribly their first encounter went. Hit the jump to check it out.
[via Pixar Planet]
Yup, it turns out tossing your brand new roommate under the bed to get attacked by a horrifying pig creature doesn't make for such an ideal first impression. It's probably a safe guess that this scene leads directly into the one shown in the header image, where the pair go chasing after Sulley's pet and Mike's hat.
If you were looking really closely, you may have noticed a little nod to Monsters Inc. hanging out around the edges. PixarPost points out that one of the beds has a "Winds of Change" poster above it, calling back to an scene in the last movie where Randall (Steve Buscemi) says to Mike, "Shh. Shh. Shh. Do you hear that? It's the winds of change."
Directed by Dan Scanlon and also starring Jennifer Tilly, Kelsey Grammer, Frank Oz, Ken Jeong, John Ratzenberger and J.B. Smoove, Monsters University opens June 21.
Mike Wazowski and James P. Sullivan are an inseparable pair, but that wasn't always the case. From the moment these two mismatched monsters met they couldn't stand each other. "Monsters University" unlocks the door to how Mike and Sulley overcame their differences and became the best of friends. Screaming with laughter and fun, "Monsters University" is directed by Dan Scanlon ("Cars," "Mater and the Ghostlight," "Tracy") and produced by Kori Rae ("Up," "The Incredibles," "Monsters, Inc.").