Helena Bonham Carter And Dominic West To Play Elizabeth Taylor And Richard Burton For BBC Four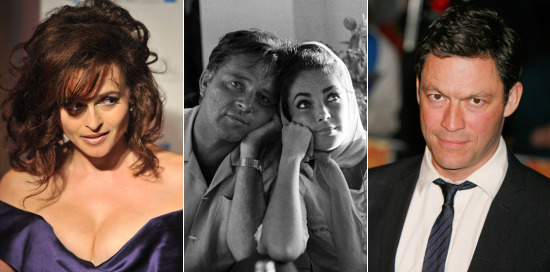 During her life, Elizabeth Taylor was known as much for her offscreen exploits as she was for her onscreen work, and public interest in her personal life hasn't waned now that she's passed. Last year, Lifetime brought us the tawdry, Lindsay Lohan-starring version of the Taylor story: Liz & Dick. This year, the BBC is preparing its own take titled Burton & Taylor, with the considerably more talented Helena Bonham Carter stepping into the lead role. Dominic West will play her erstwhile husband and lover. Hit the jump for more.
Burton and Taylor were divorced at the time, having been married from 1964-1975 and again from 1975-1976. They played a divorced couple in the play, as well. The stunt casting attracted a ton of publicity, as you'd imagine, but couldn't shield the production from piss-poor critical reviews. If you're curious for a more in-depth look behind the scenes of Private Lives, New York Magazine has a fascinating chronicle from the era.
Considering that she's more famous for playing dark, off-kilter weirdos than glamorous public figures, Bonham Carter doesn't seem like the most obvious choice to play Taylor. But she has the talent to pull it off, and it'll be interesting to see her straying outside her wheelhouse. West, too, seems like a solid pick. He's been highly praised for his work on The Wire and The Hour, but his recent film roles like John Carter and The Awakening haven't gained much traction. Burton & Taylor will be the pair's first time working together.