Netflix Makes First Foray Into Original Children's Programming With Series Based On DreamWorks' 'Turbo'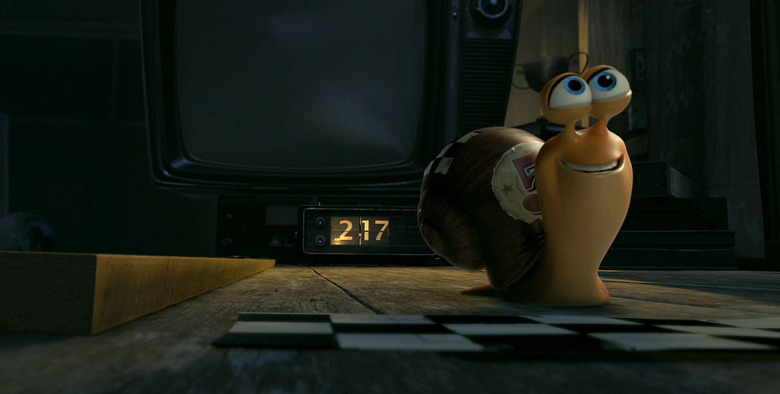 DreamWorks' Turbo won't even be in theaters for another five months, but the super-speedy snail at its center is already racing ahead to Netflix. The streaming service has just announced Turbo: F.A.S.T., a new series based on the upcoming feature. The program is part of Netflix's overall efforts to push into original programming, and will be the first Netflix-exclusive series aimed at children. Hit the jump to keep reading.
From the makers of Madagascar and Kung Fu Panda, Turbo is a high-velocity 3D comedy about an underdog snail who kicks into overdrive when he miraculously attains the power of super-speed. But after making fast friends with a crew of streetwise, tricked-out es-car-goes, Turbo learns that no one succeeds on their own. So he puts his heart and shell on the line to help his pals achieve their dreams, before Turbo-charging his own impossible dream: winning the Indy 500.
Deadline reports that the Netflix show will follow "the world-traveling exploits of our snail hero and his tricked-out racing crew as they master outrageous new stunts and challenge any villain unlucky enough to cross their path," which suggests it'll be a sequel of sorts to the movie. There's no official word on whether Ryan Reynolds, who voices the big-screen version of the protagonist, might return, but my guess is that the show will replace him with another, less famous talent with a similar voice.
The news comes just days after the premiere of Netflix's political drama House of Cards. While the David Fincher-produced series isn't Netflix's first foray into original programming (that would be Lilyhammer, released last year), it is the first of several new shows debuting on the service in 2013. The company also has Eli Roth's Hemlock Grove, Ricky Gervais' Derek, Jenji Kohan's Orange is the New Black, and Season 4 of Arrested Development due out in the coming months. Turbo comes to theaters July 19. Turbo: F.A.S.T. is slated to hit this December.