First Look, Poster, And Trailer Announcement: Vince Vaughn And Owen Wilson Reunite For 'The Internship'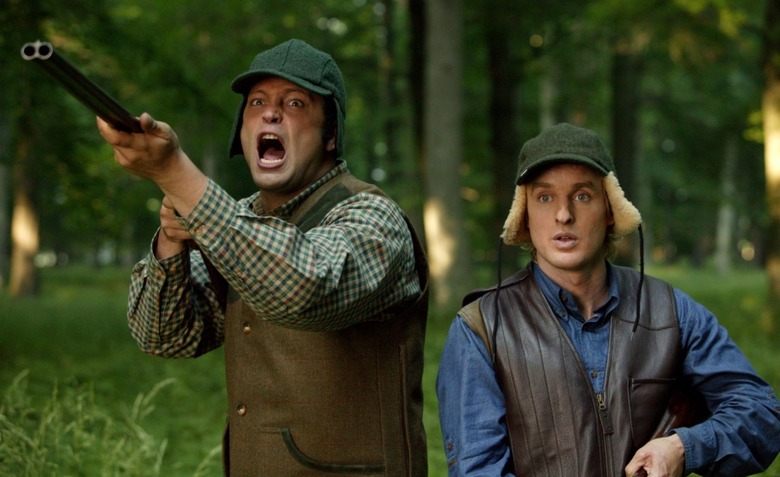 When we last saw Vince Vaughn and Owen Wilson together on the big screen, they were schooling us in the finer points of picking up women at weddings. Now, eight years later, they're trying to learn a thing or two about landing a job in this tech-forward culture.
About a year after the pair signed on for the Shawn Levy-helmed The Internship, Fox has finally revealed a first peek at the comedy via a new image and a new poster. In addition, we have a few bare glimpses of footage in the "trailer announcement," i.e., the trailer for the trailer. Hit the jump to keep reading.
The first still was posted by Russian site Kinopoisk (via The Playlist), while the poster comes to us from Collider.
Maybe it's just because I rewatched Zoolander this weekend (it totally holds up, BTW) but I can't look at this image of Wilson gazing with wonder into a computer screen without hearing Hansel murmur, "They're in the computer."
As for when we can see the pair hanging out, this announcement video indicates that we'll get the first full trailer this Wednesday — on Google Plus, naturally. Hit play to see snippets of Wilson and Vaughn in the movie.
[via Cinema Blend]
Also starring Rose Byrne, Dylan O'Brien, Max Minghella, and Jessica Szohr, The Internship opens June 7.
Billy (Vince Vaughn) and Nick (Owen Wilson) are salesmen whose careers have been torpedoed by the digital world. Trying to prove they are not obsolete, they defy the odds by talking their way into a coveted internship at Google, along with a battalion of brilliant college students. But, gaining entrance to this utopia is only half the battle. Now they must compete with a group of the nation's most elite, tech-savvy geniuses to prove that necessity really is the mother of re-invention