'Monsters University' Trailer: Kickstarting A Rivalry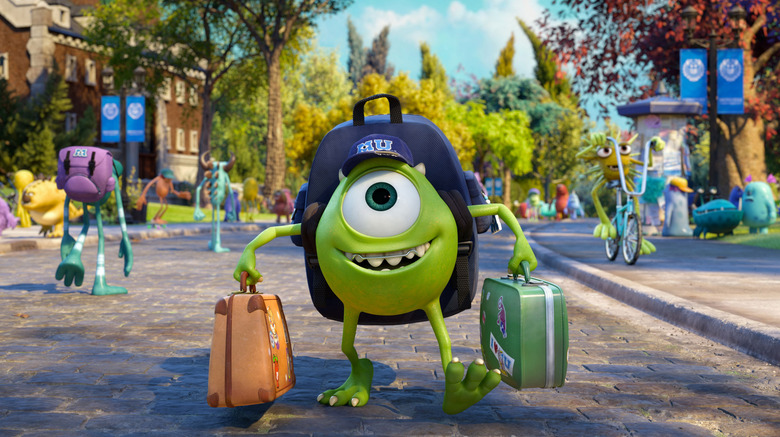 Pixar gives up new footage from its latest sequel in this trailer for Monsters University. Starting off with a classic bit of "arriving at college" footage, we're introduced to the institution in which Mike and Sully meet, form a rivalry, and eventually become friends. It doesn't look quite as warm and fuzzy as the original film was, but there's enough of Pixar's gorgeous animation to make it a treat to look at.
The new and returning cast includes John Goodman, Billy Crystal, Steve Buscemi, Jennifer Tilly, Kelsey Grammer, Frank Oz, Ken Jeong, John Ratzenberger and J.B. Smoove, and you'll hear many of them here, along with an unexpected blast of rock from 1989.
(Oh, and hint: the bit where the monster mom says "I'll just be here listening to my tunes" won't be followed with a Motley Crue song. Instead, expect to hear a real metal band blasting from her speakers — one we reported on a while ago. That was the plan, anyway; we'll see if the song made the final edit.)
Monsters University opens on June 21st, 2013.
Mike Wazowski and James P. Sullivan are an inseparable pair, but that wasn't always the case. From the moment these two mismatched monsters met they couldn't stand each other. "Monsters University" unlocks the door to how Mike and Sulley overcame their differences and became the best of friends. Screaming with laughter and fun, "Monsters University" is directed by Dan Scanlon ("Cars," "Mater and the Ghostlight," "Tracy") and produced by Kori Rae ("Up," "The Incredibles," "Monsters, Inc.").