'Man Of Steel' Figures Offer Better Looks At Zod, Faora, And Jor-El's Armor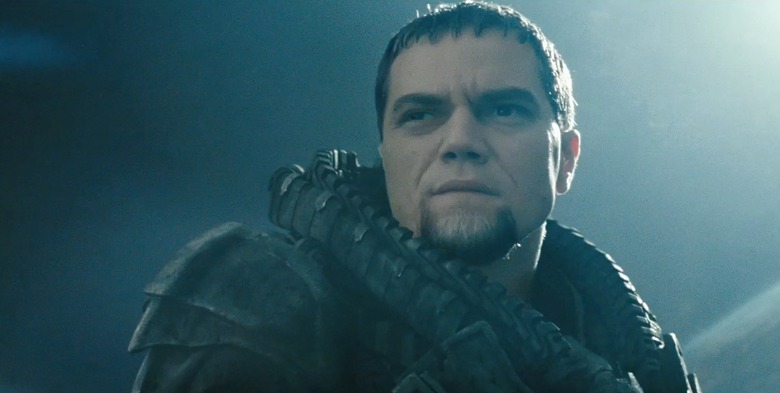 While it makes sense that the marketing for Zack Snyder's Man of Steel would focus heavily on the Man of Steel (Henry Cavill) himself, it's had the effect of playing down the other characters. No doubt General Zod (Michael Shannon) and Jor-El (Russell Crowe) play important roles in Superman's journey, but we've barely gotten more than a glimpse of them in all the footage and stills so far.
Fortunately, any comic book movie this big also comes with a slew of merchandising tie-ins, which can shed light on some of the other aspects of the film. DC unveiled their new line of Man of Steel figures at the Toy Fair in New York this past weekend. Among the 12" figures rolled out were Jor-El and Zod in full battle armor, along with Zod's right-hand woman Faora (Antje Traue). Take a look after the jump.
Zod's costume seems to be the same one we've seen in the trailers, but Jor-El's bone-colored armor and weapon are a sharp change from the softer garb we've seen him sporting in previous materials. And wow, does that head look uncannily like Crowe's.
Faora, meanwhile, looks appropriately mean and tough, with a getup that echoes Zod's without mimicking it exactly. From a practical standpoint, though, it seems illogical to skimp on that heavy-duty metal right over her midsection. If she's going to armor up, why not go all the way? Feel free to let me know why that is a ridiculous complaint in the comments.
Man of Steel is headed for release in 2D, 3D, and IMAX on June 14.
Next summer, "Man of Steel" is coming to the big screen. The film is from director Zack Snyder and producers Charles Roven, Christopher Nolan, Emma Thomas and Deborah Snyder. The screenplay was written by David S. Goyer from a story by Goyer & Nolan, based upon Superman characters created by Jerry Siegel & Joe Shuster and published by DC Comics.