Lawrence Kasdan Says He Isn't Looking At Expanded Universe For New 'Star Wars' Movies: "I'm Trying To Start Fresh"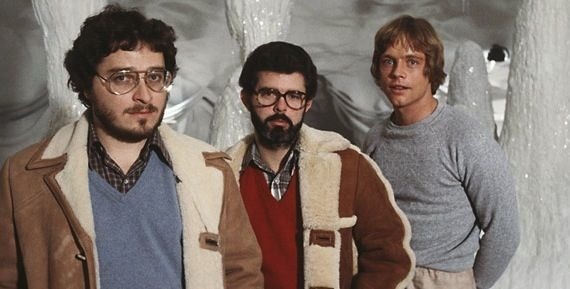 On Friday we ran some quotes from Lawrence Kasdan and Simon Kinberg talking about their work consulting on Star Wars: Episode 7 and writing the announced set of stand-alone spin-ff films set within the Star Wars galaxy. The Los angeles Times also caught up with Kasdan at the Final Draft Hall of Fame ceremony and got him to talk a bit more about the upcoming Star Wars movies.
When asked about published reports that the spin-off movies might focus on Yoda, a young Han Solo or Boba Fett, Kasdan would not confirm the rumors but insisted that "he wasn't focusing on his previous scripts or on the extended Star Wars universe in his approach to writing the new film." This is an interesting quote which could be read a number of ways. Does it mean they won't look at the expanded universe backstory of Han Solo to help lay the groundwork for a young Solo spin-off movie?
"I'm trying to start fresh. There are certain pleasures that we think the saga can bring to people that they've been missing, and we're hoping to bring them that, and at the same time, have them feel that it's all new."
Or maybe Kasdan is talking more about the writing itself, the screenplays? What does Kasdan mean by missing? I think he is referring to something greater than the eight years since the last live-action Star Wars movie.  A later quote is more telling:
"The ones I worked on were a long time ago, and they had a slightly different feeling than the ones that followed. The first three, 'Star Wars,' 'Empire' and 'Return of the Jedi' are all sort of more about people than the ones that followed.
Also of note is an aside about George Lucas. When asked what it will be like to work on Star Wars without Lucas, the Empire Strikes Back/Return of the Jedi scribe was quick to point out that Lucas was the one who recruited him for the latest films:
"George sort of brought me into this part of it, and he's stepping back from the company. He's sort of given his blessing to everybody, and he'll be there if you need him. I think everyone's interested to see where this can go. It's been some very different places over 30 years .... I think with J.J., we'll get something entirely new."
It still sounds like George's involvement will be minimal, which may be for the best. Read a couple more quotes from Kasdan on LATimes.com.