TV Bits: 'Zombieland', 'Beverly Hills Cop', 'S.H.I.E.L.D.', 'Breaking Bad', 'Game Of Thrones', 'American Horror Story', Damon Lindelof, Brett Ratner, Ridley Scott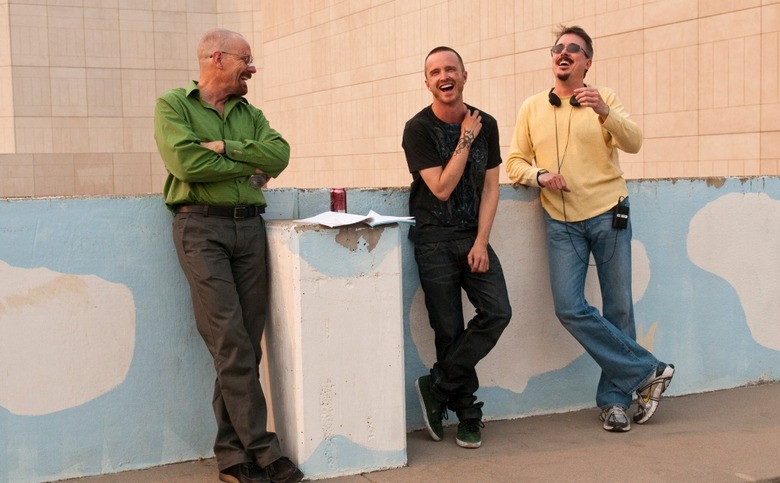 Whoever asked the universe for a Brett Ratner-produced Farmville TV series, your prayers have been answered. Also after the jump:
Director Barry Sonnenfeld signs on for Beverly Hills Cop
Ridley Scott sets up a Philip K. Dick-based miniseries at Syfy
HBO gives pilot order to Damon Lindelof's The Leftovers
Zombieland casts Maiara Walsh as its new Emma Stone
Frances Conroy will return for American Horror Story
Vince Gilligan will direct the last episode of Breaking Bad
Is that a corpse we see in the new Breaking Bad set photo?
Check out a new picture from the set of ABC's S.H.I.E.L.D.
Watch an intense new trailer for Game of Thrones Season 3
There's no word yet on how the Rush Hour helmer plans to turn an online game about farming into a half-hour animated series, but he claims to be excited by its "cross-platform opportunities." "I am thrilled to be expanding the brand with existing fans and also engaging in a whole new audience," Ratner said in a statement. [Deadline]
CBS' Beverly Hills Cop pilot is adding talent behind the camera. Men in Black 3 director Barry Sonnenfeld has come on board to direct and executive produce the hourlong episode, which stars Brandon T. Jackson as Axel Foley's police officer son. Axel himself, Eddie Murphy, will make a guest appearance in the first episode. Kevin Pollak and David Denham also star. [Deadline]
Three decades after Blade Runner, Ridley Scott is bringing another of Philip K. Dick's works to life. The filmmaker is executive producing The Man in the High Castle, a four-part miniseries for Syfy. Frank Spotnitz (The X-Files) will write the script, set in an alternate version of 1962 in which Germany and Japan won World War II and are now occupying the U.S. [Variety]
Lost co-creator Damon Lindelof is looking to return to television. HBO has given a pilot order to The Leftovers, a drama based on Tom Perrotta's novel of the same name. The story picks up in the aftermath of a mysterious Rapture-like event, following the people left behind and delving into the mystery of where exactly the "chosen" ones went.
Lindelof and Perrotta co-wrote the script, and will executive produce. The show will be Lindelof's first series since the controversial ending of Lost. [Deadline]
Having found a Columbus (Tyler Ross) and a Little Rock (Izabela Vidovic), Amazon's Zombieland TV series has now settled on its Wichita. Maiara Walsh has been cast as the cunning survivor, played by Emma Stone in the original film.
Walsh is known for starring in the Disney Channel series Cory in the House, as well as her recurring roles on Desperate Housewives, Vampire Diaries, and Switched at Birth. Her arrival leaves Woody Harrelson's character Tallahassee as the only one of the film's central quartet remaining to be cast. [THR]
Once again, Ryan Murphy will be hitting the reset version on the new season of American Horror Story, and once again, he'll be doing it with some of the same players. Francis Conroy and Taissa Farmiga have just been confirmed to return for the "evil glamorous" third season of the horror series, joining Jessica Lange, Evan Peters, Lily Rabe, and Sarah Paulson. Their roles have not been revealed. [Screen Crush]
Vince Gilligan put his stamp on Breaking Bad from the get-go, writing and directing the show's distinctive first episode. It seems only fitting, then, that he'll also write and direct its last. Gilligan revealed as much to THR, adding that the episode would enter pre-production in late February. The finale will only be Gilligan's fifth time directing the show; his other credits include the Season 3 finale "Full Measure" and the last two Season 4 episodes "End Time" and "Face Off." [via Vulture]
And speaking of the Breaking Bad home stretch, the production's official Instagram page has revealed a disturbing new photo of what appears to be a dead body. Or at least a person who's about to become a dead body.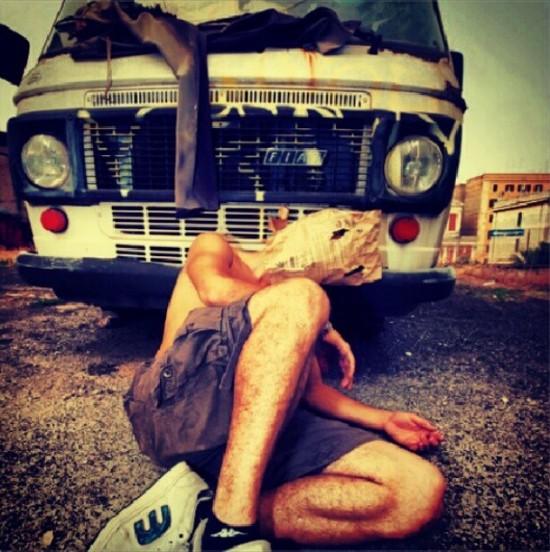 Who do you think that might be? The obvious guess would be Jesse (Aaron Paul), but I'm skeptical that the show would even hint at such a major spoiler. Maybe it's a new character, or just someone goofing around on set. We'll find out when the series returns this summer. [via MovieWeb]
S.H.I.E.L.D. writer/exec producer Maurissa Tancharoen has just tweeted a new photo from the set, showing a sign of some sort.
Just FYI... #SHIELD pic.twitter.com/S3qsVrSN

— Maurissa Tancharoen (@MoTancharoen) February 8, 2013
It's not clear whether this will actually appear in the series, but I prefer to think it's a behind-the-scenes sign warning the cast and crew not to bring real alien tech onto the set. [via Coming Soon]
HBO continues to not show any actual footage from Season 3 of Game of Thrones, but at least this teaser one comes closer by featuring the characters' faces. Along with an ominous voiceover from Littlefinger (Aidan Gillen) about chaos being a ladder.
Game of Thrones returns March 31, so expect a more revealing trailer in the near future.