Star Wars Bits: Yoda Makeup Artist Stuart Freeborn Has Died, Zachary Quinto And Roberto Orci Talk J.J. Abrams, Disney Officially Announces Spinoffs, And More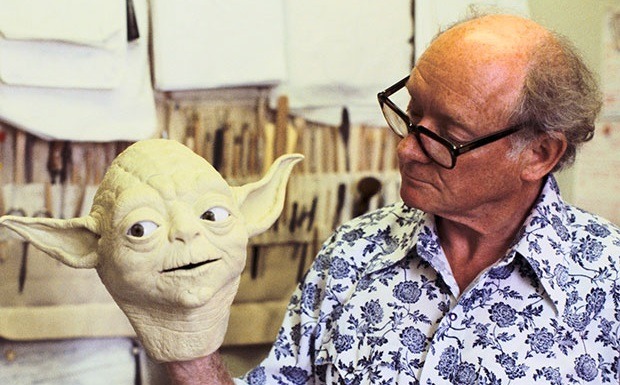 Everyone has an opinion in today's Star Wars Bits. After the jump:
Zachary Quinto and Roberto Orci are happy for J.J. Abrams,
Read the official statement from Disney announcing the spinoffs,
Author Timothy Zahn has thoughts on young Han Solo casting,
Check out an epic, action-packed fan-made trailer for Episode VII,
And legendary makeup artist Stuart Freeborn has died at the age of 98.
For J.J. this is achieving a childhood dream. Star Wars is what got him in the business. So watching him go to his Super Bowl like this? It's genuinely joyful for me. [But] as a guy who is in love with Star Trek and in love with this version of it? It puts a scared lump in my throat. It's like hearing one of the band members is going to do a solo album. I know Star Wars is going to be better for it, and I suspect Star Trek will be fine with the rest of us still here.
Zachary Quinto sounded a little more upbeat, or perhaps he's just better at hiding his worry:
I don't think anybody feels like he's going. We feel like he's growing. J.J. surrounds himself with talented people, and if the day is coming where he has to hand off the director's chair to someone, then we will all embrace that person and trust that [the new director is] the next best choice. We're excited that is is being so bold and so declarative about what he wants to do and sees ways to bring his talent to a classic franchise — like Star Trek four years ago — that can use a fresh injection of new perspective. And we all benefit as moviegoers. And he'll be around. He'll still produce our movie even if he doesn't direct it. And maybe there's some version of this where [an upcoming Trek film] fits in [to the release calendar] in a way where he can come back around as director for us as well.
Pick up the latest issue of Entertainment Weekly for more. [via ComicBook.com]
It can be tough to separate fact from rumor with regard to Disney's Star Wars plans, but you can definitely believe those character-centric spinoffs are happening. Here's the official word.
The Star Wars cinematic galaxy is about to experience a Big Bang. Lucasfilm is officially announcing new spinoff films that will expand the mythos and depths of the Star Wars universe in previously unexplored ways.
One of the standalone films will be written by Lawrence Kasdan, screenwriter of The Empire Strikes Back, Raiders of the Lost Ark, and co-writer ofReturn of the Jedi while the other will be penned by Simon Kinberg, writer of Sherlock Holmes and Mr. and Mrs. Smith. The movies will be separate from the upcoming Episodes VII, VIII, and IX, on which Kasdan and Kinberg are also consulting, and are expected to be released sometime after Episode VII. Each standalone film will focus on a specific character, and two spinoff films are currently confirmed.
Note that they haven't confirmed which characters will get the spotlight, though it's widely believed that Yoda, Han Solo, and/or Boba Fett will be first up. Read the full statement at StarWars.com.
Speaking of, that potential Han Solo prequel already has fans buzzing about which up-and-comers could convincingly portray a young Harrison Ford. However, Timothy Zahn, author of the Han-centric novel Scoundrels (and many others), argues that the look of an individual actor isn't the important part.
The key for me is not so much getting the individual actor correct as getting the chemistry between the actors. That's something [George] Lucas did beautifully in the classic trilogy. Han, Luke, and Leia...the chemistry works perfectly. Roddenberry also pulled it off with Kirk, Spock, and McCoy. That kind of casting is an art more than a science. And a lot more important than "Does this person look like a young Harrison Ford?"
[...]
Just getting the attitude correct, depending on what era he's in. He becomes a lot more responsible in the Expanded Universe stories after the events of Return of the Jedi. He was a little more self-centered before that, but with hints of the loyalty, the willingness to step up if the cause is right, the concern he has for the people he cares about, that we'll see even more of later. But getting his attitude, his voice, his swagger correct on paper is tough.
Zahn also has some opinions on what other characters could make for good standalones or spinoffs.
Lando is an obvious one. You could do a lot with Lando during the time leading up to The Empire Strikes Back. If we're going post-Jedi era I would frankly like to see Wedge put together Rogue Squadron. I think you could have a whole series of Rogue Squadron movies that would be great. Wedge is peripheral, but he is very popular and rightfully so. Who else helps take out two Death Stars?
You could even do an X-Wing TV show focused on Rogue Squadron that, just like the books, would be peripheral to the main Skywalker-Solo saga. That means you could introduce a lot of new characters anchored by Wedge. You could make wonderful stuff out of the X-Wing books.
Read much more from the interview at Hollywood.com.
Disney won't be releasing a real Star Wars Episode VII trailer for some time yet, so in the meantime why not fantasize / speculate with some fan-made videos? This particularly epic one by "Mr88668866" draws from existing Star Wars video games and movies as well as Abrams' own Star Trek Into Darkness.
If I have one complaint, it's that the video doesn't have any real characters, just lots and lots of lightsabers. But that's something for Abrams to think about when he's making his actual Star Wars movie. For a fan video, this looks pretty slick. [Movies.com]
Finally, here's some rather sad news related to the older installments. Stuart Freeborn, the makeup artist behind Yoda, Chewbacca, and Jabba, died of natural causes this week at the age of 98. Outside of the Star Wars franchise, Freeborn was also known for his work on 2001: A Space Odyssey, Dr. Strangelove, The Bridge on the River Kwai, and more.
George Lucas spoke fondly of the late artist, recalling that he was "a makeup legend" even before he came to Star Wars.
He brought with him not only decades of experience, but boundless creative energy. His artistry and craftsmanship will live on forever in the characters he created. His Star Wars creatures may be reinterpreted in new forms by new generations, but at their heart, they continue to be what Stuart created for the original films.
Yoda puppeteer/voice actor Frank Oz shared similar sentiments. "He was a legend already," he said. "He was brilliant and he was a sweet man." [BBC / LAT]