Melissa McCarthy And Ellen Page Preparing Directorial Debuts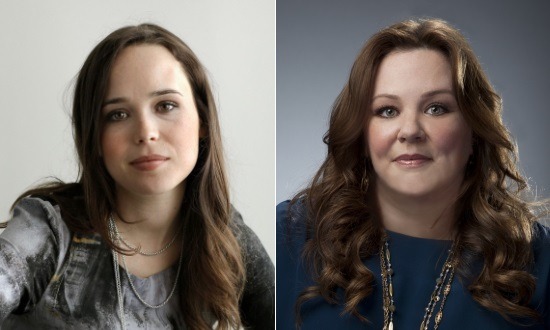 Having made their marks in front of the camera, two acclaimed actresses are getting ready to step behind the scenes.
Melissa McCarthy is teaming with her husband Ben Falcone (a.k.a. Air Marshal Jon in Bridesmaids) to direct the road trip comedy Tammy, which the pair also co-wrote and in which McCarthy will star. Meanwhile, Ellen Page is prepping her directorial debut Miss Stevens, with Anna Faris in the lead role. Hit the jump to keep reading.
The script concerns a fast food worker (McCarthy) who realizes one day that her life is falling apart, and decides to drive to Mount Rushmore with her foul-mouthed grandmother. McCarthy described Tammy in 2011 as "so funny, and it also kind of breaks my heart," which sounds like a refreshing change of pace after McCarthy's broader turns in Bridesmaids, Identity Thief, and this summer's The Heat.
Page, on the other hand, seems to be sticking behind the camera for her directorial debut. In Page's film, Faris will star as a high school teacher who regains her confidence when she takes a life-changing trip with her students to a drama competition. The script comes from Julia Hart, the up-and-comer behind the Black List script The Keeping Room and Warner Bros.' YA adaptation Beautiful Disaster.
Page hasn't directed a feature before, so I can't begin to guess what her first movie will be like. She's spent time with some great directors like Christopher Nolan and Jason Reitman, though, so maybe she's picked up some pointers in their presence. There's no word yet on when Miss Stevens will shoot, but until that gets going we can look forward to seeing Page onscreen this year in Zal Batmanglij's The East and Lynn Shelton's Touchy Feely.