Ben Kingsley, Jennifer Aniston, And Mark Duplass Join Charlie Kaufman-Esque Sci-Fi Comedy 'Convention'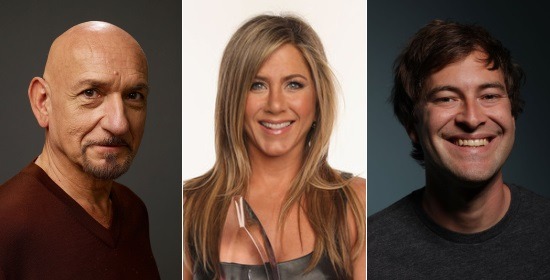 Justin Reardon's feature directing debut A Many Splintered Thing isn't even out yet, but he already seems to have a knack for attracting strong on-camera talent. The star-studded ensemble for that film includes Chris Evans, Michelle Monaghan, Giovanni Ribisi, Audrey Plaza, Anthony Mackie, and Luke Wilson, for starters. Now Jennifer Aniston, Mark Duplass, and Ben Kingsley have attached themselves to his sophomore effort, Convention.
The film is billed as a sci-fi comedy, which isn't such an unusual genre combination. However, this one sounds intriguingly offbeat, as the marketing materials reference Eternal Sunshine of the Spotless Mind and Being John Malkovich for comparison. Hit the jump for more details.
In terms of the tone, K5 International describes Convention as a "wildly original and funny" film in line with Charlie Kaufman's work. Kaufman has plenty of imitators, some of whom are more successful than others, but the premise and cast of Convention have a lot of potential. Especially if Reardon manages to live up to his press release description as "bold, inventive and bursting with imagination. To get an idea of what such his style actually looks like, visit StationFilm for some of his short-form work, or check out a reel of his commercials below via AICN.
Deadline reports that Convention is gearing up to shoot this summer. A Many Splintered Thing has yet to set a release date, but will probably land sometime this year.