Biopic 'Lust For Life' To Chronicle David Bowie And Iggy Pop's Days In Berlin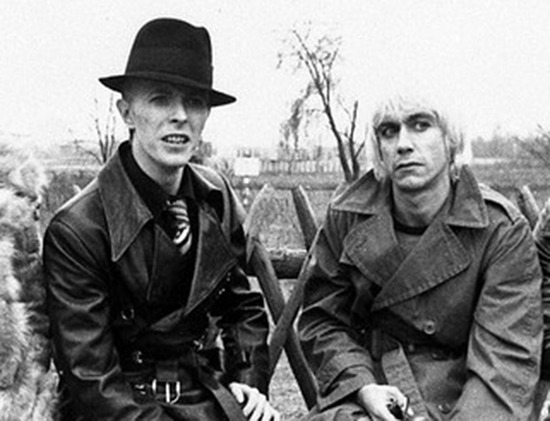 Todd Haynes' film Velvet Goldmine memorably fictionalized the relationship between David Bowie and Iggy Pop, and their relationship with the music-buying public at large. But the years in which Bowie and Pop were closely tied are too big a part of rock and roll mythology for just one movie.
And so the so-called Berlin years will be fodder for a new biopic called Lust For Life, named after Iggy Pop's 1977 solo record recorded at Hansa Studio in Berlin, which was co-written and produced by Bowie.
THR has the announcement, saying that Gabriel Range (Death of a President) will direct from a script by British comedy writer Robin French. The film is based on material in the biographies Starman: David Bowie and Open Up and Bleed: Iggy Pop.
Producer Egoli Tossell says, "[Lust for Life] is not a traditional rock biopic, for no one dies at the end," before ecalring that the real central character in the movie will be West Berlin. German coin is, perhaps unsurprisingly, funding the movie.
Bowie moved to West Berlin in late 1976, in part to clean up his drug addiction. Between '79 and '79, Bowie recorded the three records that have variously been referred to as his Berlin Triptych, or the Eno collaborations: Low, "Heroes", and Lodger. (Contrary to some descriptions, while Eno co-wrote and performed on the records, but they were produced by Tony Visconti.)
Also seeking to ditch his drug addiction, Iggy Pop shared Bowie's apartment, and during the same period Bowie produced Iggy's first two solo records, The Idiot and this movie's namesake. Though The Idiot is more a Bowie record than an Iggy effort, both records stand as watershed moments in Iggy's career, and feature songs that Bowie would make use of in his own work. ('China Girl,' for example, on The Idiot, became a huge hit for Bowie when he recorded his own version for the 1983 record Let's Dance.)
There's a huge amount of material here for a good rock biopic. Making it work with actors will be interesting — I'd almost love to see Bowie and Iggy play themselves.
(This effort also comes at a good time, because Bowie's upcoming record The Next Day plays on the Berlin years — the cover references "Heroes", and the lead single 'Where Are We Now?' muses on the Berlin days.)