'You're Next' Team To Make 'The Guest'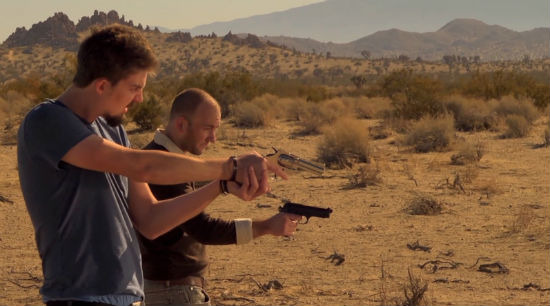 Adam Wingard and Simon Barrett just locked in their next project, an action-thriller called The Guest. Barrett will write, Wingard will direct, and it'll focus on a solider who comes home and becomes connected to the family of one of his fallen friends. Issues from his past then put everyone in danger.
This will mark Wingard and Barrett's official feature follow-up to You're Next, which will be released in August. Since then they've contributed to VHS, S-VHS and The ABCs of Death. They're also developing Dead Spy Running for Warner Bros. 
Variety broke the news of the film, which will be produced by Keith Calder and Jessica Wu of Snoot Entertainment. The pair worked with Wingard and Barrett on You're Next.
The plan is for Wingard to shoot the film this summer, likely before publicity for You're Next kicks in.
In a recent interview we did with Wingard, he talked about how – after his first few movies mostly focused on horror – he really wanted to get into a more pure action film and The Guest certainly seems like it fits the bill:
I definitely would consider myself a genre filmmaker, whatever that means to anybody else, but to me I just want to do different types of films that I like and that I think I can put an interesting stamp on. Right now I've gone from serial killer movies to home invasion movies and those just happened to be more horror things....But in the future the next type of genre I want to do is like an action film and possibly an erotic thriller and stuff like that.... I like horror movies and I'm not one of those people that think you're lowering yourself to do a horror film or something like that. So I like doing them, but at the same time I don't want to get stuck doing them. I'd love to do a ghost movie right now, but at the end of the day it's like "Is that the smart career choice?" Action, for example, is an opportunity to branch out and once you're branched out you can go back.