Sequel Bits: 'Fast & Furious 6', 'Insidious Chapter 2', 'Red 2', 'The World's End', 'Transformers 4', 'Star Trek Into Darkness', 'The Muppets... Again'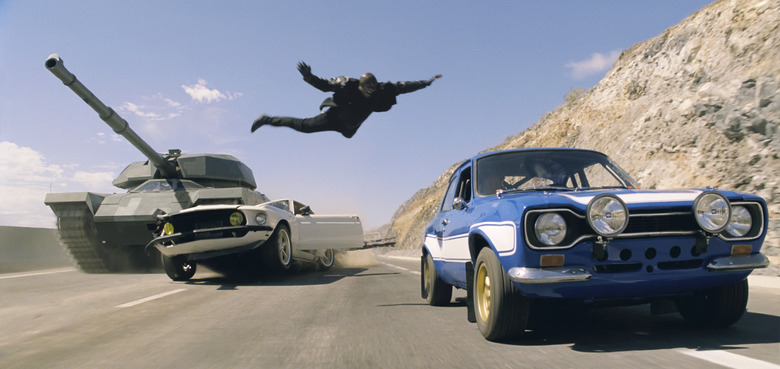 Ah, yes, the Fast and the Furious franchise: Where a man can fly from one fancy speeding car to another in the middle of the highway while a tank wreaks havoc in the background. See that photo and more after the jump. Also:
Jocelin Donahue is young Barbara Hershey in Insidious 2
Helen Mirren teases some of her big action scenes for Red 2
Yes, Rafe Spall will appear in Edgar Wright's The World's End
Benedict Cumberbatch's Trek character is a very modern terrorist
Producer Lorenzo di Bonaventura talks Transformers 4
A Good Day to Die Hard unveils a Valentine's Day-themed spot
The gang's all here in a fresh batch of stills from Fast & Furious 6
See some colorful high-res images from The Muppets... Again
Helen Mirren isn't known for her action chops, but in Red she proved she was more than capable of kicking ass. While Red 2 won't see her repeating her old tricks, it seems she has some new ones up her sleeve. Let her explain:
And that's not all Victoria gets to do — she also gets to chow down on expensive foods. "I sat there for the whole day just noshing caviar," she recalled of one scene. "It was fantastic!" See Mirren in action on August 2. [Empire]
Technically, Edgar Wright's The World's End isn't a sequel. But it is the third entry of Wright's unofficial "Blood and Ice Cream" trilogy, and this is a fun bit of news we'd like to share, so here we are.
Rafe Spall has confirmed that he'll be back for the new film, having played Noel in Shaun of the Dead and DC Andy Cartwright in Hot Fuzz. Interestingly, he declined to say whom he'd be playing for fear of giving away too much about the film. Does that mean he figures into the endgame somehow? All will be revealed when The World's End comes October 25. [Empire]Benedict Cumberbatch is still playing coy about the identity of his Star Trek Into Darkness baddie (unless you believe the John Harrison stuff — hey, who knows?) but he's happy to talk at length about the character otherwise. Like, for example, his parallels to some real-life modern-day villains:
[Look at] real social history and present history, everything that's going on: uprisings, people who are trying to spread democracy or fight their cause, not necessarily through political means ... he is a terrorist, and sadly, that's part of the fabric of our modern world. You don't need to look far to research that one. [...] It was important to me to ground him in a reality that's based more on his story than, say, a parallel in the real world. What should certainly be chilling are the parallels to the modern world.
Learn more about "John Harrison" when the J.J. Abrams-directed film hits May 17. [MTV]
Just how much will Transformers 4 break from Transformers 1-3? Michael Bay has said that the new film won't be a reboot, but also that they've "redesigned everything." In a recent interview, producer Lorenzo di Bonaventura offered his own explanation.
There's a lot of new elements. I wouldn't say we've completely changed this world, and yet it's completely different... There are new characters, new situations. I don't think we revisit a single location. Michael really has a great way of approaching this thing.
When he says "new characters," he means it — according to him, there won't even be room for a Sam Witwicky (Shia LaBeouf) cameo. Probably. "Things are not set in stone," he admitted, but "that wouldn't be the intention."
Though Bay is setting up 4 to be the start of a new trilogy, di Bonaventura doesn't know whether the filmmaker will be around for the other two installments. "I can't speak for Michael. I hope he would [direct the next two]," he said. While Bay decides, we can look for his Transformers 4 to hit on June 27, 2014. [MTV]
Fox is having a little fun with the unlikely V-day release date for A Good Day to Die Hard, with this new teaser that promises to say the "three little words" you've been waiting to hear.
The fifth installment of the Die Hard franchise crash-lands in theaters February 14.
Now that Universal has kicked off its Fast & Furious 6 marketing campaign, it's wasting no time getting its materials out there. Today we have a fresh batch of over a dozen images, featuring the friendly familiar faces of Vin Diesel, Paul Walker, Dwayne Johnson, and all their other criminal pals.
Fast & Furious 6 drops into theaters May 24. [Collider]
We've seen most of these The Muppets... Again stills before, but now their fuzzy little faces are in higher res. And before you ask, it's not a mistake that two of the photos look identical. One has director James Bobin in the background, while the other replaces him with Sweetums.
Starring Ricky Gervais, Tina Fey, Ty Burrell, and a whole bunch of anthropomorphic felt creatures, The Muppets... Again opens March 21, 2014. [Stitch Kingdom]