'Fast And Furious 6' Extended First Look: Like A Trailer, But Truly Faster And More Furious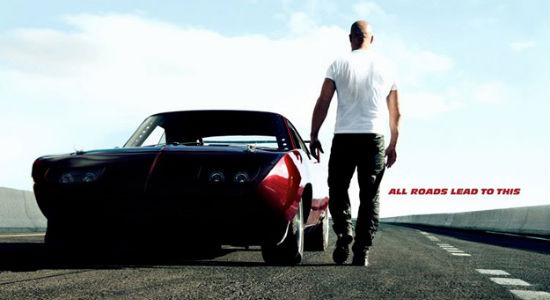 Super Bowl Sunday was a great day if you were a Baltimore Ravens fan, but it was pretty damn good day for Fast and Furious fans too. Universal dropped their first look at the upcoming Fast and Furious 6, the latest film in the action franchise about crime, fast cars, and huge set pieces. It blew away the competition. Today we get more.
Justin Lin returns for his fourth go-round in as director, and seems to have crafted an even faster and furious (er...) film this time around. Fresh off their massive heist in Brazil, Dom (Vin Diesel) and Brian (Paul Walker) are back. This time, though, the special agent hired to bring them down (Dwayne Johnson) has a favor to ask. He needs to team up with Dom and Brian to bring down an even worse bad guy, played by Luke Evans. Throw in the return of Michelle Rodriguez's thought-to-be-dead character and May 24 can't get here fast enough.
While the Super Bowl spot was great, below we have an "extended first look" at the film which combines the mind-blowing action from the Super Bowl with more story and explosions.
Here's the extended first look at Fast and Furious 6.
As a fan of this franchise, this trailer makes me both incredibly excited and slightly disappointed. Lin has obviously made a bigger, most explosive film this time around, which is saying something after Fast Five. However, with this clip being almost a minute longer than your standard trailer, I wish it left me wanting more. There's so much to digest in this first look that my anticipation has already reached its peak. How much more can be hiding for us come release time?
I guess we'll just have to wait and see. Fast and Furious 6 opens May 24.
Since Dom (Diesel) and Brian's (Walker) Rio heist toppled a kingpin's empire and left their crew with $100 million, our heroes have scattered across the globe. But their inability to return home and living forever on the lam have left their lives incomplete.
Meanwhile, Hobbs (Johnson) has been tracking an organization of lethally skilled mercenary drivers across 12 countries, whose mastermind (Evans) is aided by a ruthless second-in-command revealed to be the love Dom thought was dead, Letty (Rodriguez). The only way to stop the criminal outfit is to outmatch them at street level, so Hobbs asks Dom to assemble his elite team in London. Payment? Full pardons for all of them so they can return home and make their families whole again.