Kristen Wiig Joins 'Anchorman: The Legend Continues'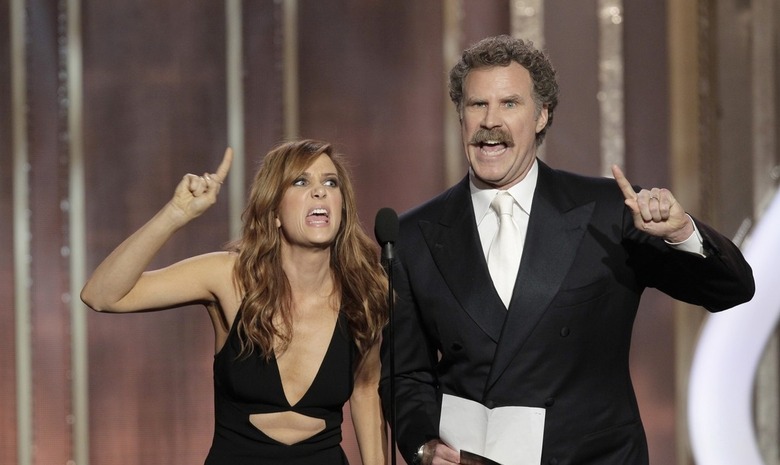 With Will Ferrell, Paul Rudd, Steve Carell, David Koechner, and Christina Applegate in the lead roles, plus a slew of their famous friends in supporting and cameo parts, Anchorman: The Legend of Ron Burgundy certainly had no shortage of big comic talents. But in typical sequel fashion, Anchorman: The Legend Continues plans to go even bigger with a veritable "murderer's row of day players," according to co-writer/director Adam McKay. Now, he seems to be making good on that promise as Kristen Wiig becomes the cast's first fresh face.
Just found out Kristen Wiig officially on board for Anchorman 2. Cannonball!

— Adam McKay (@GhostPanther) February 5, 2013
The Bridesmaids actress is rumored to be playing Brick's wife — who, as far as we know, is not a lamp, despite Brick's professed passion for the household object. Wiig has crossed paths with most of the Channel 4 news team at this point in her career, through Saturday Night Live as well as features like Date Night, Despicable Me, and Knocked Up. Details about Wiig's character have not been revealed, but I'm sure she will have no trouble fitting into the Anchorman universe.
Plot specifics on the new film remain under wraps for now (even from Carell and Rudd, apparently), but McKay has previously explained that the film would focus on "the rise of new media and the 24 hour news cycle."
I mean what is this 24 hours news, and this wall of white noise information, has it really been good for our country? The great thing when you find a point of view like that is that it doesn't have to be preachy or didactic, it's also funny. It's just funny that Americans have to contend with 2000 channels, and 60 different specific news sources, and the confusion that it creates, and the junk that we get to see is hilarious. That's what we're always kinda looking for, what's the point of view that's got life to it and plays.
As for how they'll tell that story, McKay has said to expect musical numbers. We'll find out more as the film prepares to shoot this spring for a December 20 release.
Wiig will next be heard in July's Despicable Me 2, also starring Carell, and she has a role in Ben Stiller's The Secret Life of Walter Mitty, also due out this December.