TV Bits: 'Breaking Bad', 'Community', 'Futurama', 'Beverly Hills Cop', 'Archer', 'Bates Motel', Marc Maron, George R.R. Martin, More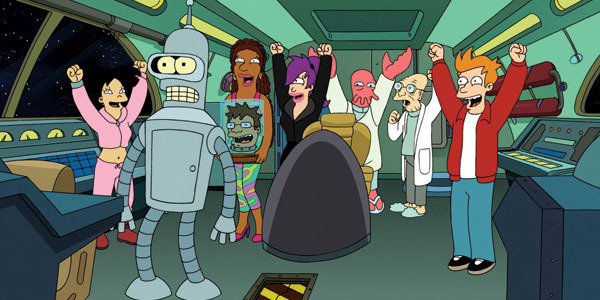 I am going to assume that the Futurama crew, like the rest of the Internet, is cheering in celebration of Community's return. After the jump:
Dean Norris says Breaking Bad's final run is "Hank-centric"
Roy from The Office is Beverly Hills Cop's new Judge Reinhold
George R.R. Martin could develop more shows for HBO
See the real-life models for the staff of ISIS on Archer
Marc Maron's IFC series, titled Maron, unveils a first teaser
Syfy has a new trailer for its upcoming series Defiance
Mother and son are creepy in Bates Motel's new teaser and poster
Comedy Central offers a peek at the next season of Futurama
Get ready for Community's long-awaited return with a new trailer
The actor had landed a role in a comedy pilot, and he begged showrunner Vince Gilligan to free up his schedule by killing Hank. "I called Vince and I said, 'Hey man, maybe Hank should die in the first eight. Wouldn't that be a great ending?'" Norris recalled. Gilligan, however, disagreed. "He said no in his nice Southern way: 'I need you, what else am I going to write about in the last eight?'" Breaking Bad returns this summer. [National Post via Vulture]
Axel Foley's son (Brandon T. Jackson) will have some company on CBS' Beverly Hills Cop. David Denham (a.k.a. Roy from The Office) has just joined the comedy pilot in the role of Brad, an awkward but well-meaning detective described as the show's Judge Reinhold counterpart. In addition, standup comedian Kevin Pollak will play the "irritating and incredibly risk-averse" attorney Rodney Daloof. [THR, Deadline]
HBO is eager to get back in bed with George R.R. Martin after the runaway success of Game of Thrones. The fantasy author has just signed a two-year deal with the premium cable channel to develop and produce new series, while continuing his position as co-executive producer of Game of Thrones. Martin's non-GoT TV writing credits include Beauty and the Beast (the '80s series, not the new one) and The Twilight Zone. [Deadline]
If you've ever seen H. Jon Benjamin, it should be perfectly obvious that he wasn't the physical inspiration for Sterling Archer. More surprising is the fact that actually, almost none of the Archer characters were modeled after their voice actors — not even Lana, who could hardly look more like Aisha Tyler if the animators tried.
Instead, she's the cartoon version of a Hooters waitress, Pam resembles an Atlanta antiques dealer, and Gillette, ironically enough, is a blonder version of the guy who voices Krieger. Head to Vulture for an eye-opening slideshow with side-by-side comparisons.
Comedy nerds, rejoice! Marc Maron is coming to the small screen Maron, about — you guessed it — a comedian running a comedy podcast out of his garage. Check out the first teaser right here:
Maron premieres on IFC this spring. [Vulture]
We've already seen some footage from A&E's Bates Motel, but the newest teaser takes a more conceptual route. Not much happens here, but Vera Farmiga and Freddie Highmore manage to get across Norma and Norman's unsettling relationship all the same.
And here's a similarly themed poster to go with it:
Bates Motel kicks off March 18. [Deadline]
Syfy's new series Defiance also has a new teaser. The show follows Jeb Nolan (Grant Bowler), chief lawkeeper of an alien refugee camp located in the ruins of St. Louis. And "alien" here doesn't just mean folks from overseas — we're talking the extraterrestrial type.
Defiance debuts April 15. [Broadway World via TV Line]
On the lighter side of sci-fi, we also have a first trailer for the second half of Futurama's seventh season. Looks painful for the Planet Express crew, perhaps, but fun for us!
No airdate has been announced, but look for the episodes to hit sometime this summer. [via TV Line]
Forget the Super Bowl: The real TV programming highlight this week is the long-awaited return of Community, which is entering its fourth season overall and its first under new showrunners Moses Port and David Guarascio. Get prepared with this epic two-minute trailer.
[via LAT]
If you're curious about what Port and Guarascio think of their new gig, there's a lengthy interview over at HitFix you may want to check out. If, on the other hand, you're more eager to hear what their predecessor Harmon has to say, read his polite "no comment"-type response at Splitsider. And finally, if you want to hear more about what a dick Chevy Chase is, listen to Joel McHale on Howard Stern here.
Or maybe you just want to see more clips from the new season. In that case, hop over to NBC.com. Community is back on air this Thursday, February 7, at 8 PM.