Star Wars Bits: Warwick Davis Wants In; Chris Pine Wants J.J. Abrams Back; Fan Filmmaker Asks For A Shot; And An Angry Birds Update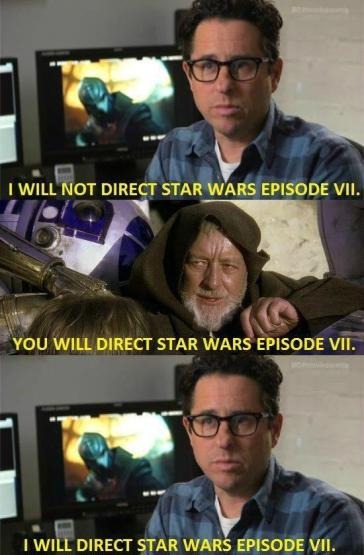 J.J. Abrams' flip-flop in regards to Star Wars Episode VII certainly felt like a Jedi Mind Trick (thanks to Blastr for the above image) and the rest of today's Star Wars Bits also cover both ends of the spectrum. Movies and games, positive and negative. Read about the following below:
Star Wars fan filmmaker Michael "Dorkman" Scott writes an open letter to J.J. Abrams.
Star Trek star Chris Pine is fine with Abrams switching franchises, as long as he comes back for Star Trek 3.
Warwick Davis says if he's cast in Star Wars Episode VII, it would be historic.
An update to Star Wars Angry Birds called Escape From Hoth is now available.
Some of the most famous Star Wars fan films on the Internet are the lightsaber battles known as the Ryan vs. Dorkman series. These guys made such great films, director Joe Carnahan said he felt they should direct Episode VII. But now it's J.J. Abrams and Dorkman (real name Michael Scott) has put up his pitch to be a part of the films. Here's an excerpt, you can read the rest on his blog:
I know that as the man at the helm of Star Wars you'll have your pick of stunt coordinators and fight choreographers, and we're not the only ones clamoring for your attention and begging to work on the new film. I also know, from watching behind-the-scenes featurettes and listening to you talk, that you still understand what it is to love and have passion for what you do, and that you know how much it means to a young filmmaker to have that same passion recognized. You could find others to choreograph your fights, but you won't find anyone with more love for it than we bring. To be involved at all would be beyond an honor — it would be life-changing. And if you put your faith in us, I promise we'll make you — and the fan community — proud.
Chris Pine, star of the Star Trek films, spoke to USA Today about the news that his director, J.J. Abrams, will be making Star Wars Episode VII:
From my standpoint, J.J. is a science-fiction genius. To have him over in the Star Wars camp is going to be a great thing. I'm sure it's going to be a great film.
He then commented on if he had any trepedations about the movie:
The only way I'll be disappointed is if he doesn't direct our third movie. I think if that turns out to be the case we'll have to kidnap him and hold him hostage until he agrees to do a third.
It already seems likely Abrams will only be able to produce a third Trek film so, if he goes missing, we know who to call first.
What Culture interviewed Warwick Davis about his new app and TV show, An Idiot Abroad Season 3. Of course the question came up if he'd been contacted about Star Wars Episode VII and, either way, would he like to do it:
I've not been approached, but I'd love to do it. I think JJ Abrams is a great filmmaker and a great choice. I'd like to play a villain, and handling a lightsaber would be a bonus. Plus, it would mean I could claim to be the only actor to appear in all three trilogies- the original trilogy, the prequels and the sequels, I think they're called. So I'll be dropping hints to Mr. Abrams, oh yes!
Star Wars Angry Birds has been a mainstay on my phone since the day of release. First they added a Hoth update and it looks like a Cloud City is on the way. According to DroidGamers, there's also an Escape from Hoth addition that's available on Google Play. It's takes place in an asteroid field complete with huge worms, mynocks and more.