Weta To Reboot 'Thunderbirds' As Live-Action/CG Hybrid Show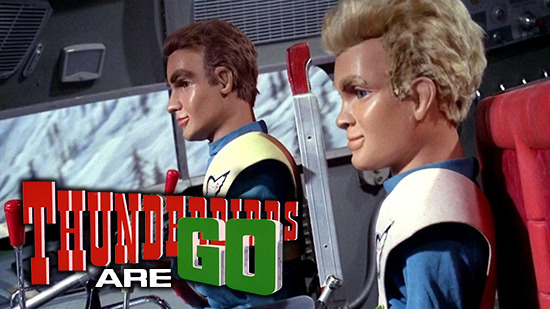 What's weirder than a resurgence of the supermarionette show Thunderbirds, which originally premiered in the UK in 1965? How about a version that eschews the puppetry that has long characterized the title, in favor of a blend of live-action and CGI? The weird part is that this isn't the first live-action venture for the characters. Jonathan Frakes directed a live-action Thunderbirds feature, which was released to rather dismal reviews and box-office returns in 2004.
ITV Studios is backing a new series called Thunderbirds Are Go!, with the CG work to be done by WETA. The new show shares a title with the first Thunderbirds film, released in 1966. This one will have a new creative team; original Thunderbirds creator Gerry Anderson passed away in December, at age 83.
Info from the press release is below, along with some classic video.
ITV Studios and New Zealand based Pukeko Pictures, in collaboration with world-famous Weta Workshop (Avatar, King Kong, The Lord of the Rings) are to co-produce Thunderbirds are Go! (working title) a 26 x 30' major new children's series set to debut on ITV and UK's CITV Channel in 2015.
This re-invention of Gerry and Sylvia Anderson's iconic series will be produced using a unique mix of CGI animation and live-action model sets. Showcasing Pukeko Pictures' and Weta Workshop's ground-breaking creative and technical excellence, it will deliver a whole new level of action-adventure animation for today's audience, whilst also affectionately paying tribute to the legacy of model locations from the classic series.
Featuring the world's most famous family of heroes, International Rescue, Thunderbirds are Go! will blast the five brave Tracy brothers back on to television screens piloting their incredible vehicles into impossible rescues across the globe.
Thunderbirds are Go! will be executive produced by Estelle Hughes for ITV Studios, Giles Ridge for ITV Studios Global Entertainment (ITVS GE) and Richard Taylor and Andrew Smith for Pukeko Pictures. The series head writer is Rob Hoegee (Generator Rex, Teen Titans, Ben 10, Slugterra.)
[Variety]