'From Up On Poppy Hill' US Trailer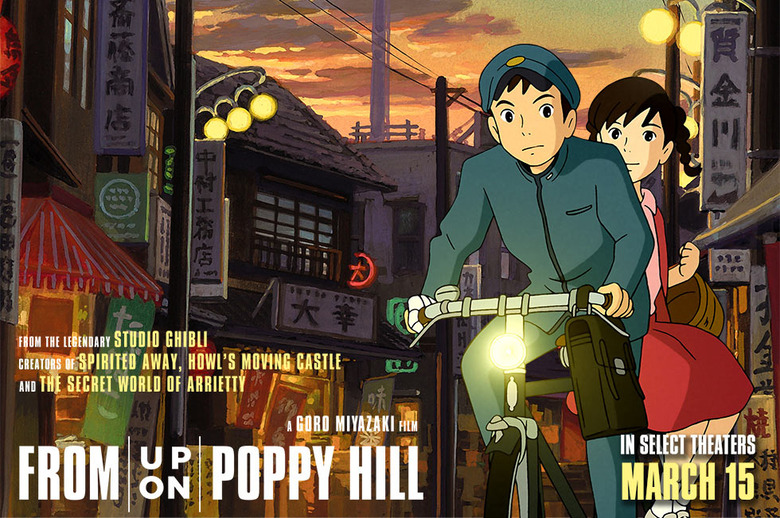 In March, Studio Ghibli's latest film, From Up on Poppy Hill, comes to the US. Directed by Goro Miyazaki, son of Hayao Miyazaki, the film is a coming-of-age story set in Japan's transformative post-war days. The animation is characteristically gorgeous, while the real-world setting sets it apart from most of Ghibli's output.
This first US trailer, which comes from new-ish Ghibli distributor GKids, features the English-language voice cast (Jamie Lee Curtis, Christina Hendricks, Ron Howard, Aubrey Plaza). Some of the previous trailers have been subtitled, but this will give you an idea of how the film will play in the States, should you happen to catch a showing with the English track.
Apple has the trailer. From Up on Poppy Hill releases on March 15.
From Academy Award(R) winner Hayao Miyazaki and director Goro Miyazaki comes this uniquely inspired coming-of-age story. Set in Yokohama in 1963, as Japan is picking itself up from the devastation of World War II and preparing to host the 1964 Olympics, the story centers on Umi and Shun, two high school kids caught up in the changing times. But a buried secret from their past emerges to cast a shadow on the future and pull them apart. With its rich color palette, stunning exteriors, sun-drenched gardens, bustling cityscapes and painterly detail, From Up on Poppy Hill provides a pure, sincere, and nuanced evocation of the past, and marks yet another creative triumph for Studio Ghibli.