Early Buzz: Guillermo Del Toro's 'Pacific Rim' Plus New Photos Released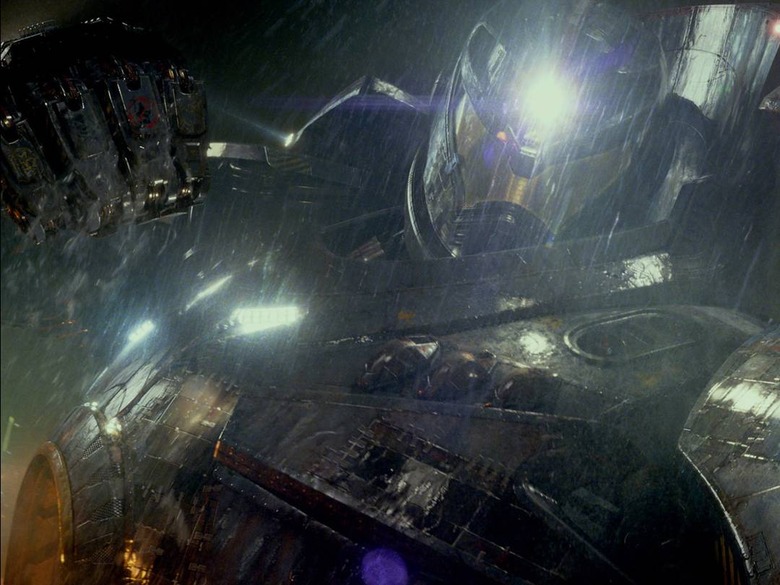 Normally if the ground shakes in Los Angeles, it's an earthquake. Saturday night, any shaking was likely a result of giant robots and giant monsters squaring off on screen.
Guillermo Del Toro's July 11 release, Pacific Rim, had a early test screening in Burbank, CA Saturday night and the buzz is extremely positive. Looper director Rian Johnson praised the film along with several others who took to Twitter and message boards to give reactions. It seems Del Toro has at least met, and possibly exceeded the gargantuan expectations for the film. Read the reactions – and see some brand new images – after the jump.
Ain't It Cool News was the first to report on the screening, including Johnson's tweet:
Here are some others from PacificRimMovie.net and the IMDB message boards:
Saw a pre-screening of Pacific Rim... it is amazing.

— Eric Church (@HoursOfWealth) February 3, 2013
So, yeah. You're going to want to see Pacific Rim.

— Alex Irvine (@alexirvine) February 3, 2013
Overall, it's probably the best summer monster movie I've seen, and out of summer movies in general, falls behind the new Batman series, but that's about it. I wrote on their response form that they should be proud of the movie and that I'm glad it's not another Transformers clone (re: Battleship). They killed it!
You can read more at those links.
Also – USA Today released some new images from the film. Check them out below and head there to read the captions which have some new quotes.
While I don't doubt that Del Toro is crafting a fun and exciting film, I would take some of these reactions with a grain of salt. Anyone tweeting about a test screening is likely breaking a contract they signed to go into the theater. That lack of judgement could, possibly, carry over to their taste in movies. Johnson, on the other hand, is very aware of the test screening game and surely got permission to tweet. That's the one I'd trust the most.
Do you know anyone who saw Pacific Rim on Saturday night?