'Under The Dome' TV Teaser: From The Minds Of Stephen King And Steven Spielberg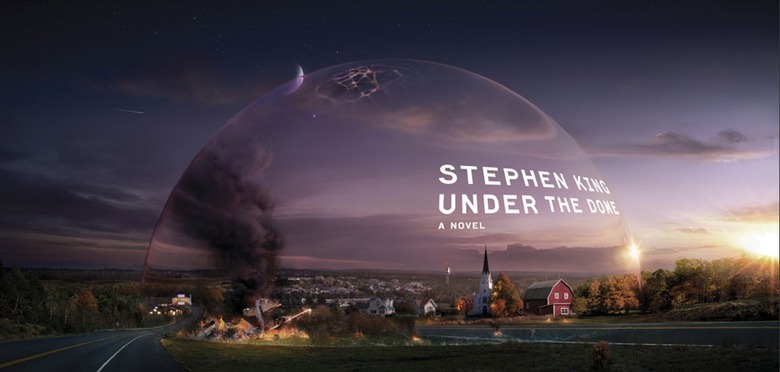 We may receive a commission on purchases made from links.
Nestled among the many blockbuster movie ads last night was the first teaser for Under the Dome, CBS' upcoming supernatural drama based on Stephen King's novel and produced by Steven Spielberg's Amblin Entertainment. CBS clearly has incredibly high hopes for the series, having given it a straight-to-series 13-episode order and bypassing the pilot process altogether.
Whether those expectations will be met remains unclear, as the first teaser didn't actually show off any footage at all. But it looks pretty cool, which is enough for now. Watch it after the jump.
[via Deadline]
The series unfolds in a New England town that is suddenly cut off from the rest of the world by an invisible, impenetrable dome. The first bit of casting was announced a few weeks ago when Colin Ford (We Bought a Zoo) landed the part of Joe, a kid separated from his parents when the dome descends. Since then, the show has also added Natalie Martinez (CSI: NY) as a cop, Britt Robertson (The Secret Circle) as a waitress, Jolene Purdy (Glee) and Nicholas Strong (Nashville) as radio station employees, and Alex Koch as a politican's son.
Under the Dome premieres Monday, June 24 on CBS. Here's a synopsis of the book via Amazon:
Just down Route 119 in Chester's Mill, Maine, all hell is about to break loose. . . .
On an entirely normal, beautiful fall day, a small town is suddenly and inexplicably sealed off from the rest of the world by an invisible force field. Planes crash into it and rain down flaming wreckage. A gardener's hand is severed as the dome descends. Cars explode on impact. Families are separated and panic mounts. No one can fathom what the barrier is, where it came from, and when—or if—it will go away. Now a few intrepid citizens, led by an Iraq vet turned short-order cook, face down a ruthless politician dead set on seizing the reins of power under the dome. But their main adversary is the dome itself. Because time isn't just running short. It's running out.