Sequel Bits: 'A Good Day To Die Hard', 'Star Trek Into Darkness', 'The Muppets... Again', 'Dawn Of The Planet Of The Apes', 'Blade Runner 2', 'Wreck-It Ralph 2', 'The Last Exorcism Part II', 'Riddick'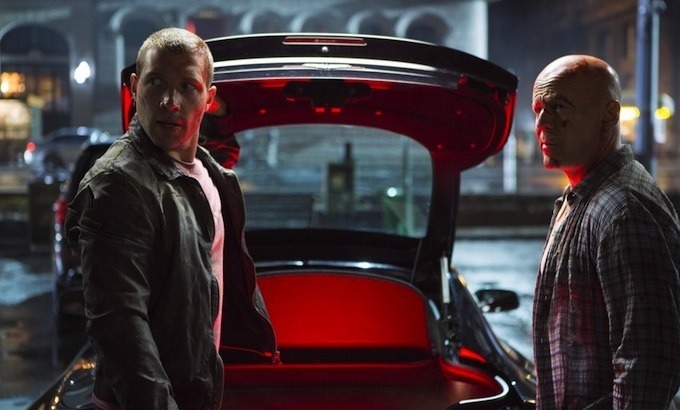 Valentine's Day is just around the corner now, and you know what that means: Fox is ramping up their marketing efforts for their big romantic holiday release, A Good Day to Die Hard. Also after the jump:
The Muppets... Again will feature old songs along with new ones
Writer Scott Z. Burns discusses Apes and Blade Runner 2
Rich Moore and his stars are totally up for more Wreck-It Ralph
Enroll in Starfleet Academy with the Star Trek Into Darkness app
Chris Pine will kidnap J.J. Abrams for Star Trek 3 if he has to
Riddick is back out in the rain in the newest still from Vin Diesel
The Last Exorcism Part II unveils a new TV spot and a poster
A Good Day to Die Hard will run about 90 minutes...
... one of which you can watch right here...
... along with a featurette that offers more plot
When Matt Reeves replaced Rupert Wyatt as the Dawn of the Planet of the Apes director, the script also changed hands from Scott Z. Burns (who in turn had worked off of an original draft by Rick Jaffa and Amanda Silver) to Mark Bomback. At this point, Burns says he's not sure how much of his writing will wind up in the film.
I have no idea [if they're using my script]. Rupert Wyatt and I worked on a draft last summer that I think we were both really excited about and he went into Fox and they seemed to like it, they wanted a lot of changes and they sort of parted ways over those changes. Then management shifted at Fox, they brought in a new director. I think the new director wanted a new writer and I don't know how much of what we did and I wrote is ongoing. It's kind of heartbreaking because I really loved what we were trying to say with that movie so I hope some of it survives or that they came up with something a lot better.
But it's not like he's hurting for work. Among the other possibilities coming up for Burns is a collaboration with Ridley Scott, which may or may not be a Blade Runner sequel.
I talked to Ridley about it at one point as a part of a larger conversation about us trying to find something to do together because I have such admiration for him. I'm as huge a fan of that movie as anybody else who would be reading this or watching it, so what I said to him was, 'Let's not do that unless we have something amazing to do or to say, because I don't want to touch that idea unless I really feel like I have something amazing to contribute and right now I don't know what that is.'
I think he and I will probably talk again about [Blade Runner], but again it's less about that specifically and more about he and I wanting to make a science fiction movie together. So I hope that that happens, to me I'm not particularly attached to it being Blade Runner. I suspect by the time we would come up with something it would be its own thing and not attached to that franchise necessarily, because it is a franchise, it's a great piece of work."
Director Rich Moore began talking up ideas for a Wreck-It Ralph sequel not long after the first film opened. In a more recent interview, he confirms that he's still very much interested in doing another, as are stars John C. Reilly and Sarah Silverman.
My experience was so tremendous on this film and the animators, the designers, the story artists, the actors — I know everyone here had a good time making the film. I've talked with John and Sarah and we would all love to visit that world again and work with those characters again. We would jump at the opportunity. We're all crossing our fingers about as far as you can cross them that we get a chance to do that.
HuffPo has the rest of the interview.
Star Trek Into Darkness is just one of many, many movies that will be advertising this Super Bowl weekend, but Paramount has a little something special planned for this one. A free mobile (iOS and Android) app will allow users to participate in various "missions" that lead to bonus content. And yes, that includes hints about Benedict Cumberbatch's mysterious villain. Hit LA Times to learn more.
Speaking of which, Trekkies aren't the only ones worried that J.J. Abrams' new Star Wars gig might keep him from the next Star Trek. Chris Pine says he's happy for his Star Trek Into Darkness director — but will be bummed if Abrams sits out the sequel.
"The only way I'll be disappointed is if he doesn't direct our third movie," said the actor. "I think if that turns out to be the case we'll have to kidnap him and hold him hostage until he agrees to do a third."
I'm sure there are some Trek fans who'd approve of that plan, but Pine seems to be joking. "From my standpoint, J.J. is a science-fiction genius." he added. "To have him over in the Star Wars camp is going to be a great thing. I'm sure it's going to be a great film." [USA Today]
Vin Diesel has shared another new photo from Riddick, which once again shows the poor hero in the pouring rain. What is the deal? Are there no umbrellas on this planet?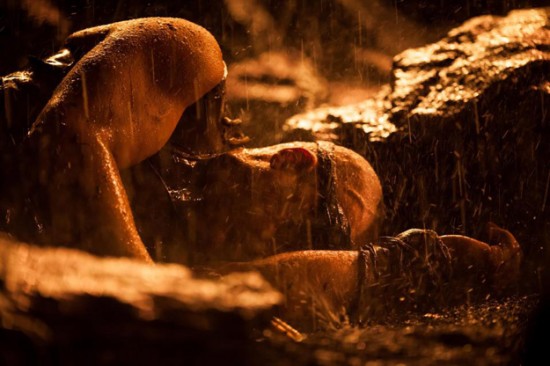 Riddick lands in theaters September 6. [Facebook]
Being possessed by demons sure looks uncomfortable. The previous poster for The Last Exorcism Part II had star Ashley Bell literally bending over backwards, and the new one has her stretched out in an awkward crucifix position.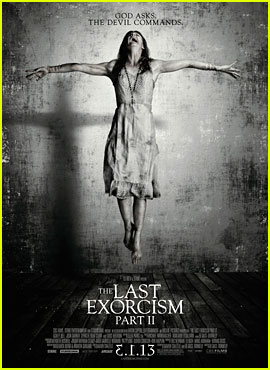 There's also a new TV spot to go with it:
The Last Exorcism Part II premieres March 1. [Just Jared via Cinema Blend]
Though A Good Day to Die Hard sees John McClane (Bruce Willis) traveling further away from home than ever, he'll be saving the day in record time. The new film reportedly clocks in at just 97 minutes, making it the shortest of the series by almost thirty minutes. [The Playlist]
As for what we'll see in that hour and half, here's a clip showing how the McClanes (Willis and Jai Courtney) do father-son bonding time.
As well as a featurette that delves more deeply into their relationship.
The McClanes take on Mother Russia February 14. [MovieWeb, Yahoo]