Plot Synopsis For 'Fast And Furious 6' Reveals A Homesick Crew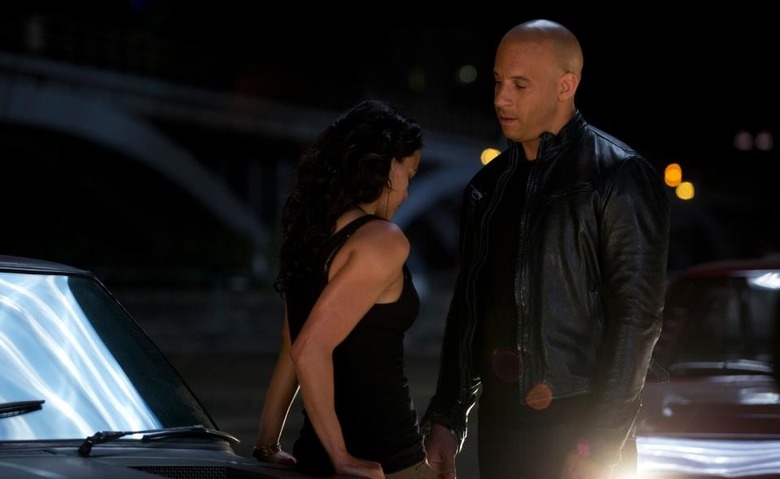 Fast Five wound up being one of 2011's most unexpected pleasures, so hopefully we're in for a treat when the first footage from Justin Lin's Fast and Furious 6 (or whatever it winds up being called) airs during the Super Bowl this weekend.
To prep fans for the unveiling, Universal has finally released an official synopsis explaining just what Dom (Vin Diesel), Brian (Paul Walker), Hobbs (Dwayne Johnson), and the rest of the gang will be up to in the new film — and how exactly Luke Evans' villain and the presumed-dead Letty (Michelle Rodriguez) factor in. Read it after the jump.
Since Dom (Diesel) and Brian's (Walker) Rio heist toppled a kingpin's empire and left their crew with $100 million, our heroes have scattered across the globe. But their inability to return home and living forever on the lam have left their lives incomplete.
Meanwhile, Hobbs (Johnson) has been tracking an organization of lethally skilled mercenary drivers across 12 countries, whose mastermind (Evans) is aided by a ruthless second-in-command revealed to be the love Dom thought was dead, Letty (Rodriguez). The only way to stop the criminal outfit is to outmatch them at street level, so Hobbs asks Dom to assemble his elite team in London. Payment? Full pardons for all of them so they can return home and make their families whole again.
Between the family angle and the Letty / Dom reunion, Fast and Furious 6 seems to have a surprisingly strong emotional component to it. It's not coming out of nowhere, though – Fast Five also leaned heavily on the importance of friendship and especially family, with mentions of Mia (Jordana Brewster) and Brian's new baby every few minutes. I'm certainly not expecting Fast and Furious 6 to become a full-on interpersonal drama, but it's always nice when a bit of fluffly entertainment actually has some human logic to it.
Fast and Furious 6 zooms into theaters May 24. Gina Carano, Elsa Pataky, Sung Kang, Gal Gadot, Tyrese Gibson, and Chris "Ludacris" Bridges also star.