Star Wars Bits: Robert Rodriguez, Terence Stamp, Keri Russell, Amanda Lucas, Star Wars: The Black Series, 'The Yoda Chronicles', And More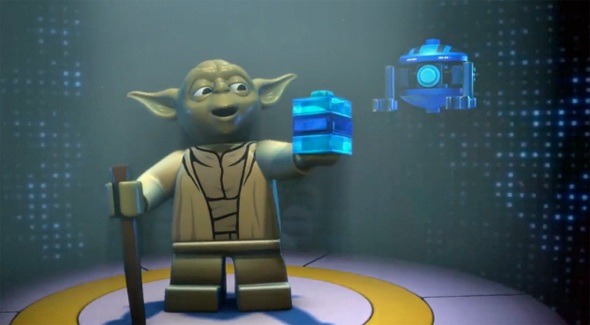 Of course the big news this month is J.J. Abrams' hiring as the Episode VII director, but if you're curious about what else is going on in the world of Star Wars we have several other odds and ends for you. After the jump:
Robert Rodriguez would direct a Han Solo spinoff
Cartoon Network will air LEGO Star Wars: The Yoda Chronicles
Terence Stamp does not have fond memories of Episode I
George Lucas will appear in a doc about his daughter, who is an MMA fighter
Preview Hasbro's new Star Wars Black Series action figure line
Keri Russell would love to reunite with J.J. Abrams (hint, hint)
And, oh look, StarWars.com has undergone a facelift.
While the Sin City director says his interest in such a job would "depend on what it was," there's one character he's unambiguously enthusiastic about. "If there was something that somebody said, 'Here, Han Solo, his own adventures.' I'd go do that," he said. Are you listening, Disney? Read more of his comments at MTV.
Cartoon Network announced their new lineup this week, and it appears that the rumors were true: The Clone Wars was notably absent from the list, as it's most likely off to make a new home at Disney XD. However, Cartoon Network hasn't entirely left the Star Wars galaxy. It also announced The Yoda Chronicles, a trio of specials from LEGO Star Wars (which has its own deals with the network). Here's a description:
LEGO Star Wars returns in epic style with THE YODA CHRONICLES, a thrilling, funny and action-packed new LEGO Star Wars story told in three animated TV specials! Set in the "Prequel" Star Wars timeline, THE YODA CHRONICLES stars the one and only Yoda—the Jedi Master who has seen it all, done it all, and taught generations of Jedi Knights—in an all-new adventure. With the help of a fresh class of Padawans, Yoda leads the Jedi in a desperate fight to stop Darth Sidious and his minions from creating a new super-weapon that could crush the Republic and win the war for the forces of Evil.
Read the rest of the press release at the Turner website (via TheForce.net).
Samuel L. Jackson, Ewan McGregor, Carrie Fisher, and more have already expressed their interest in returning for Episode VII, but one former Star Wars actor who doesn't have such fond memories of the franchise is Terence Stamp. "It was just boring," said the Brit thespian, who played Chancellor Valorum in Episode I – The Phantom Menace.
Much of his grievances had to do with director George Lucas. "We didn't get on at all," Stamp recalled. "I didn't rate him that much as a director, really. I didn't feel like he was a director of actors; he was more interested in stuff and effects. He didn't interest me and I wouldn't think I interested him." Pick up the latest copy of Empire magazine to read the full interview, or head to Comic Book Movie for a few more quotes.
Unlike some of her Hollywood peers, Lucas' daughter Amanda Lucas chose not to follow in her father's footsteps but instead forged her own path as a professional MMA figher. Her story will be told in an upcoming documentary simply titled Lucas, directed by Bobby Razak. And yes, her famous dad makes an appearance. Watch the trailer below.
Learn more about the film at The Bleacher Report.
Obviously, the revival of the Star Wars franchise also extends to the toy front. Hasbro has just unveiled a more adult-oriented line of action figures called Star Wars: The Black Series. Standing about 6 inches tall and retailing for $20 a pop, the collectible figures will place greater emphasis on detail.
The first four characters (Luke Skywalker, R2-D2, Darth Maul, and an Imperial desert trooper) will hit shelves in early or mid-August, followed by four more figures later in 2013. See some photos of the new Luke below, then go to USA Today to learn more.
X-Wing Luke isn't the only one getting a makeover in the wake of Disney's acquisition. The official Star Wars homepage has gotten something of a facelift, the details of which you can read at TheForce.net. Or, you know, just go to StarWars.com and check it out for yourself.
J.J. Abrams has been known to reuse some of his favorite actors from project to project, so naturally we're wondering which of his standbys might appear in Episode VII. And for that matter, so is his former Felicity and Mission: Impossible III star Keri Russell. "I'm waiting for my call," she joked.
As for which character she could portray, Russell said she'd be up for "anyone he lets me play. I would do anything for J.J. I would do crafts services if he asked!" TV Line promises to have more comments from Russell later this week.