Drafthouse Films To Distribute Festival Award Winner 'I Declare War'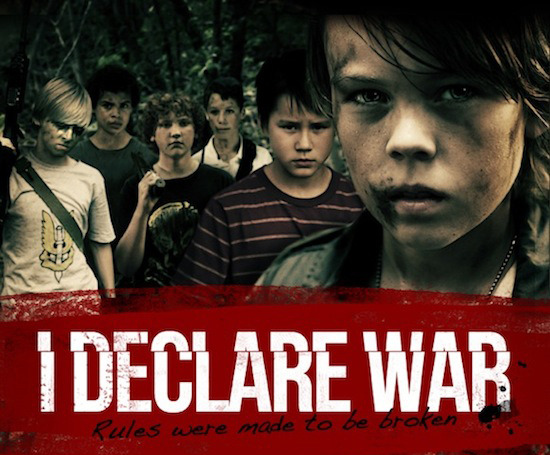 The film I Declare War, in which a group of kids play capture the flag in the woods, with imagined weapons seen as real tools of war, and the consequences rendered dire personal terms. The concept is good and directors Jason Lapeyre and Robert Wilson execute it well; the film took the Audience Award after playing at Fantastic Fest last September.
Now Drafthouse Films has announced plans to distribute the film in the US. Drafthouse Films CEO/Founder Tim League said in a press release, "Armed with an arsenal of extremely talented child actors and combining shades of Full Metal Jacket and Lord Of The Flies, Jason and Rob have created a one-of-a-kind action film that we couldn't be more excited to handle in the US."
The film will play in theaters and VOD in the latter half of 2013; the press release notes that festival bookings are available for the film through third quarter 2013, so we can probably expect the wide release to be in the year's fourth quarter.
Reviewing the film at Fantastic Fest, I said,
The "game as realism" approach of I Declare War is the hook, but the reason to stick around is the way that writer/co-director Jason Lapeyre, who directed with Robert Wilson, weaves enduring ideas about friendship, betrayal and adolescence into the film... The scenario transitions seamlessly from playground fluff to effective exploration of the causalities incurred as one kid follows his drive to secure victory at any cost.
...Even as the concepts get heavy, Lapeyre and Wilson maintain a fleet-footed approach to putting them on screen. Like the game it depicts, I Declare War is both cute and deadly serious, with the competing tones complementing rather than undermining each other.