Watch Disney's Hand-Drawn / CG Hybrid Short 'Paperman' In Full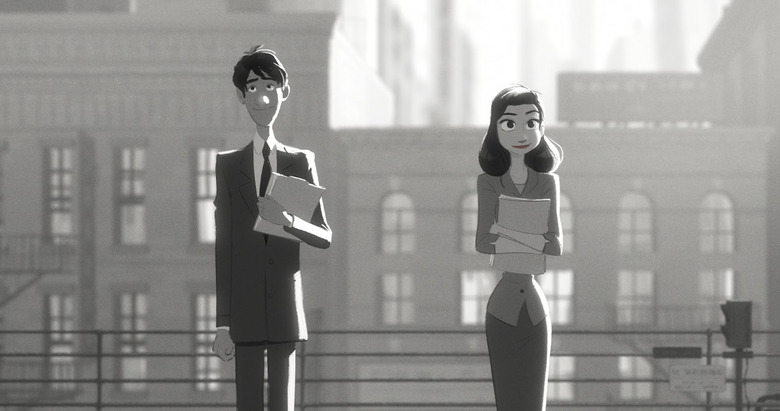 If you caught Wreck-It Ralph last fall — and considering its $182 million domestic box office gross, there's a good chance you did — you've probably already seen Paperman, Disney's buzzed-about 2D animated short. But if you missed it, or if you did see it but are just eager to relive the magic, you're in luck. Disney has uploaded the six-minute film in full to YouTube, and you can enjoy it after the jump.
Using a combination of hand-drawn and CG techniques, the mostly black-and-white movie follows a man and a woman who meet by chance on their morning commute. They part ways before they have a chance to speak, but when he sees her in the office right across the street from his, he spends the rest of the day attempting to reconnect. Click through to watch the video.
The tale unfolds in mid-century Manhattan, but it's not just the setting that gives Paperman a retro feel. Though the short utilizes modern computer technology, the whole idea was to turn away from the glossy, super-polished look of many recent films. "As exciting a time that we live in right now, with so many CG features being done, that kind of stylized photo-realism can't be the only way that animation can look," Kahrs said last year. "I think for 2-D to be revitalized, you have to figure out a way to make it new again."
Paperman will be released as a special feature on the Wreck-It Ralph Blu-ray / DVD on March 5. In addition, it'll be hitting some theaters as part of Magnolia and Shorts HD's Oscar-nominated shorts presentation starting this weekend.