Paul Thomas Anderson's 'Inherent Vice' Aims For Spring Shoot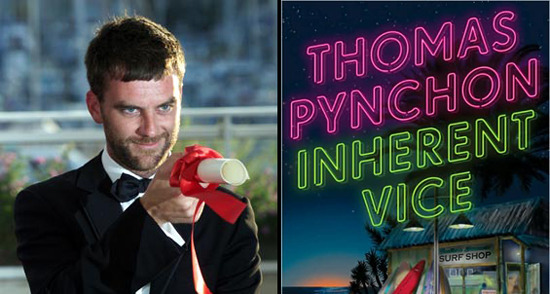 A Thomas Pynchon novel is really, truly headed to the big screen from a reputable director. And that director is Paul Thomas Anderson — what a wonderful world this is!
Anderson took quite a long time to finance, make and release The Master, which hit theaters five years after his previous film, There Will Be Blood. But if there's any justice, his follow-up to The Master could hit in 2014. Reports now say that he plans to shoot Inherent Vice, based on Pynchon's novel, this spring. We knew he wanted to shoot the film this year, but we'll be excited every time the start date gets closer to finalization. That's quite a shortened turnaround time for the director. 
PTA producer JoAnne Sellar told Cigarettes & Red Vines that the plan is to shoot Inherent Vice as early as this coming spring.
We're just putting the financing together and the plan is to start shooting in late April... Everything should be [underway] very soon in order to start shooting then: late April/early May kinda thing.
Part of the "everything" she references there is casting, which should finalize once and for all that Joaquin Phoenix will play the lead role Robert Downey, Jr. was circling for a year or so. Charlize Theron has been rumored for the film as well, but not confirmed.
 Part noir, part psychedelic romp, all Thomas Pynchon— private eye Doc Sportello comes, occasionally, out of a marijuana haze to watch the end of an era as free love slips away and paranoia creeps in with the L.A. fog. It's been awhile since Doc Sportello has seen his ex-girlfriend. Suddenly out of nowhere she shows up with a story about a plot to kidnap a billionaire land developer whom she just happens to be in love with. Easy for her to say. It's the tail end of the psychedelic sixties in L.A., and Doc knows that "love" is another of those words going around at the moment, like "trip" or "groovy," except that this one usually leads to trouble. Despite which he soon finds himself drawn into a bizarre tangle of motives and passions whose cast of characters includes surfers, hustlers, dopers and rockers, a murderous loan shark, a tenor sax player working undercover, an ex-con with a swastika tattoo and a fondness for Ethel Merman, and a mysterious entity known as the Golden Fang, which may only be a tax dodge set up by some dentists.