Cobie Smulders Says "There Are Definite Talks" To Bring Back Maria Hill In ABC's 'S.H.I.E.L.D.'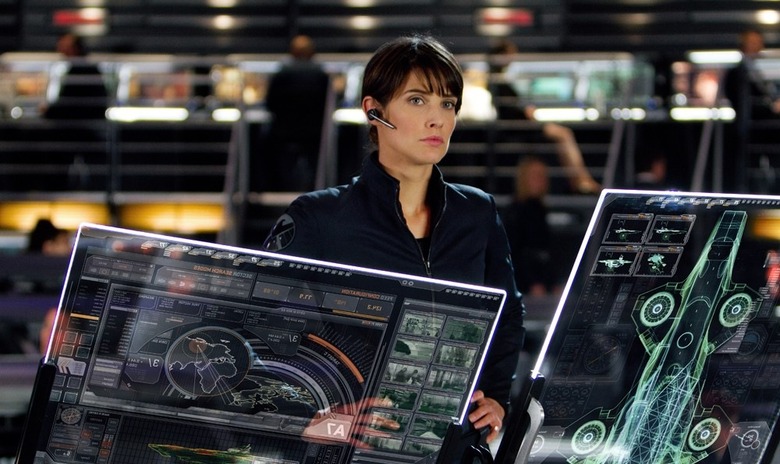 Though ABC's S.H.I.E.L.D. will consist mostly of new characters, we can expect some familiar faces to help guide us through that new corner of the Marvel universe. Back in October, Clark Gregg, who played Agent Coulson in the movies, was confirmed to be returning (though it remains to be seen just how he'll fit in). Now it he may be joined by his Avengers co-star Cobie Smulders as well. While the How I Met Your Mother actress isn't locked in just yet, she acknowledged in a recent interview that there have been "definite talks" about reprising her role. Hit the jump to keep reading.
But that reluctance to feature established MCU characters apparently doesn't apply to S.H.I.E.L.D. members like Coulson and Maria Hill. Smulders hinted at her possible casting in an interview with IAmRogue. "The commitments to [How I Met Your Mother] don't affect it," she said. "And I can't really say but there are definite talks about it."
The level and nature of Smulders' involvement remains unclear. She is contracted to remain on How I Met Your Mother through at least the 2013-2014 season, which will be the show's ninth and likely last. It therefore seems unlikely that she could sign on as a regular on S.H.I.E.L.D., which could premiere as early as this fall. But that doesn't keep her from making the occasional guest appearance, or joining S.H.I.E.L.D. full time later on.
Smulders made her first appearance as Hill alongside Gregg and Samuel L. Jackson (Nick Fury) in 2012's The Avengers, and is confirmed to reprise her role for 2014's Captain America: The Winter Soldier. Outside of her work on How I Met Your Mother and the MCU, Smulders' upcoming roles include the Nicholas Sparks weepie Safe Haven, the Vince Vaughn comedy The Delivery Man, and David Wain's They Came Together.