Frank Darabont's 'L.A. Noir' Renamed 'Lost Angels;' Simon Pegg Plays Small Role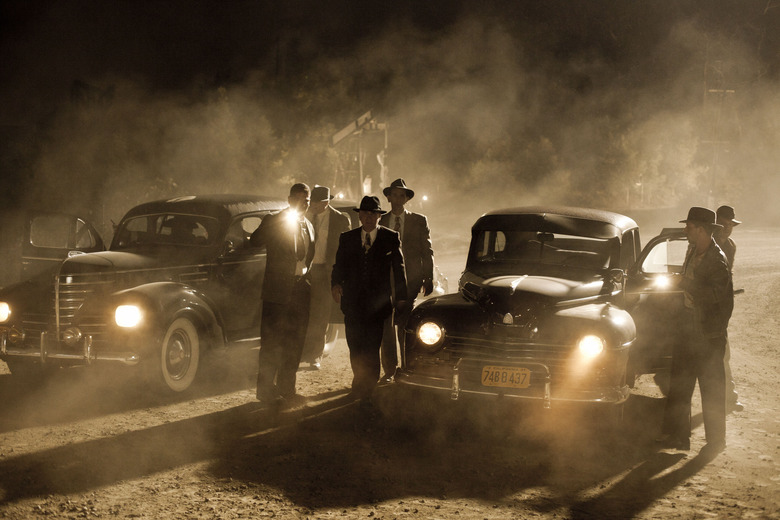 Frank Darabont is trying again with a television series in the wake of his departure from The Walking Dead, and he's brought John Bernthal along with him. His new effort was called L.A. Noir, but will now hit televisions as Lost Angels. As you might have surmised, the reason for the title change is Rockstar's video game called L.A. Noire; the publisher laid down the law about the title.
Based on John Buntin's book L.A. Noir: The Struggle For The Soul Of America's Most Seductive City, the show covers some of the same ground as the recent film Gangster Squad: the battle between LA cops and gangster Mickey Cohen. Info on the title change is below, straight from Darabont, along with the plot of the pilot and info on a role played by Simon Pegg. 
Darabont recently explained the change to io9:
It was going to be called L.A. Noir, based on the book by John Buntin. But the video game company with the video game called L.A. Noire (with an e!) threatened to sue the s— out of me, TNT, every company that actually ever worked in Hollywood. And they have the billions of dollars to back it up, apparently. So we're changing the title, and I do believe the title is going to be Lost Angels.
And what about Simon Pegg's role? The showrunner says,
He plays a stand up comic in 1947. It's not a funny role. It's a serious role. He's laying down a dramatic performance in a flawless, American dialect of the era... People who are Simon Pegg fans will be blown away by what he has done in this.
Here's the description of most of the ingredients in the pilot's plot, which will air on TNT:
Lost Angels stars Jon Bernthal as Joe Teague, an ex-Marine now working as an LAPD cop in an era rampant with police corruption. Jeffrey DeMunn plays Detective Hal Morrison, who heads the LAPD's new mob squad, with Jeremy Strong as Detective Mike Hendry, Morrison's second in command. Neal McDonough is Capt. William Parker, Teague's boss who is determined to weed out corruption and bring down Cohen. And Milo Ventimiglia plays Ned Stax, who fought alongside Teague during World War II but who now works as a lawyer with connections to the mob. The project also co-stars Ron Rifkin playing Los Angeles Mayor Fletcher Bowron, who makes it his mission to clean up corruption in city government; Pihla Viitala as Anya, the head bartender at Bunny's on Central Avenue, the West Coast center of the black jazz scene; and Alexa Davalos as Jasmine, a beautiful woman whose past has come back to haunt her.