Julian Assange Calls 'The Fifth Estate' A "Massive Propaganda Attack," Steve Wozniak "Embarrassed" By 'jOBS'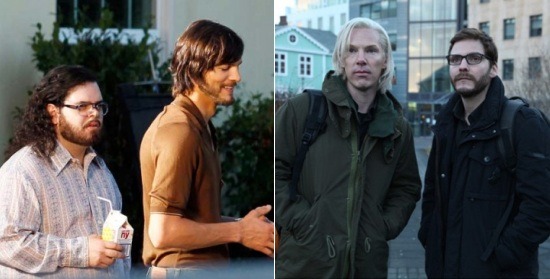 Finding the right balance between fact and fiction is a tough trick for any "based on a true story" movie to pull off, but at least the subjects of, say, Lincoln (or Abraham Lincoln: Vampire Hunter, if you prefer) aren't actually around to comment on their portrayal. For movies about public figures who are still alive and well, criticism from their real-life subjects often comes with the territory.
Two upcoming biopics about controversial figures have recently come into view, and it appears that the people depicted in them aren't so thrilled with Hollywood's versions of events. In a series of emails, Apple co-founder Steve Wozniak called Joshua Michael Stern's jOBS "totally wrong," though he expressed his hopes that the film would at least be "fun and entertaining." Meanwhile, WikiLeaks founder Julian Assange had much harsher words for Bill Condon's The Fifth Estate, which he blasted as a "massive propaganda attack." Read their comments after the jump.
Totally wrong. Personalities and where the ideas of computers affecting society did not come from Jobs. They inspired me and were widely spoken at the Homebrew Computer Club. Steve came back from Oregon and came to a club meeting and didn't start talking about this great social impact. His idea was to make a $20 PC board and sell it for $40 to help people at the club build the computer I'd given away. Steve came from selling surplus parts at HalTed he always saw a way to make a quick buck off my designs (this was the 5th time).
The lofty talk came much further down the line.
I never looked like a professional. We were both kids. Our relationship was so different than what was portrayed. I'm embarrassed but if the movie is fun and entertaining, all the better. Anyone who reads my book iWoz can get a clearer picture.
It sounds like he's reacting to the weirdness of seeing his own life (as relates to the movie's protagonist Steve Jobs, anyway) represented inaccurately on the big screen. But he seems to be taking it in stride, acknowledging that he's only seen the one scene so far and expressing his hopes that the film will be "entertaining." Read more of his reaction here.
In contrast, Assange did not hold back on his fury over Condon's The Fifth Estate. Deadline reports that during a recent public debate, he called the currently shooting project a "massive propaganda attack on WikiLeaks and the character of my staff." Claiming to have read a copy of the movie's script, he accused the project of "fanning the flames" of war by suggesting that Iran is building a nuclear war. "How does this have anything to do with us?" he said. "It is a lie upon lie."
The film, based partially on a tell-all memoir by Assange's former right-hand man Daniel Domscheit-Berg, is expected to portray Assange as an idealist who becomes corrupted by power. Earlier this week, Condon released a statement explaining his take on Assange and WikiLeaks:
It may be decades before we understand the full impact of WikiLeaks and how it's revolutionized the spread of information. So this film won't claim any long-view authority on its subject, or attempt any final judgment. We want to explore the complexities and challenges of transparency in the information age and, we hope, enliven and enrich the conversations WikiLeaks has already provoked.
Sounds much milder than the war-sparking, lie-spreading bit of propaganda that Assange described, doesn't it?
jOBS will hit theaters April 19. The Fifth Estate is due out November 15.