'Oz: The Great And Powerful' Character Posters Feature Three Lovely Witches And A Handsome Wizard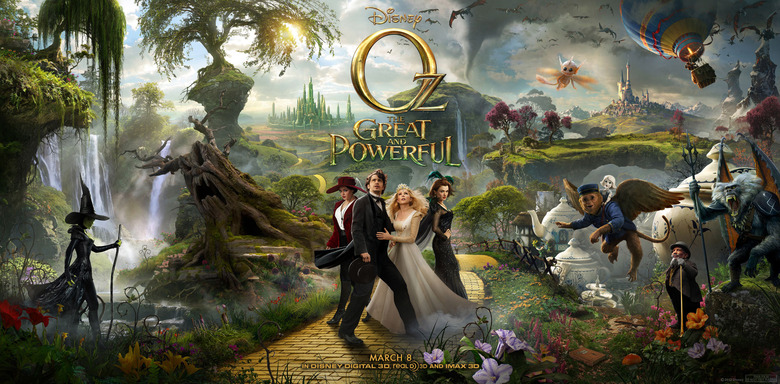 A few weeks ago, Disney dropped a striking poster featuring the Wicked Witch of the West, adding fuel to the ongoing debate about whether it's Evanora (Rachel Weisz) or Theodora (Mila Kunis) who goes green in Oz: The Great and Powerful. A new batch of posters doesn't answer that question, but it does give us a closer look at who the individual players in the movie are. Hit the jump to see individual characters for Evanora, Theodora, Glinda (Michelle Williams), and of course, the Wizard himself (James Franco).
[Digital Spy, AICN]
It's obvious from these posters that Oscar's a showman and that Glinda is the embodiment of all that is good, sweet, and pure. More ambiguous are the images of Evanora and Theodora. There's a clear visual link between the former and the Wicked Witch, what with the deep green colors of her dress and the tornado in the background — but that's precisely why I suspect the big twist is that it's Theodora who ultimately becomes the villain. Her poster doesn't reveal much about her at all, other than that she favors floppy, wide-brimmed hats and the color red.
Directed by Sam Raimi, Oz: The Great and Powerful opens March 8.
Disney's fantastical adventure "Oz The Great and Powerful," directed by Sam Raimi, imagines the origins of L. Frank Baum's beloved character, the Wizard of Oz. When Oscar Diggs (James Franco), a small-time circus magician with dubious ethics, is hurled away from dusty Kansas to the vibrant Land of Oz, he thinks he's hit the jackpot–fame and fortune are his for the taking–that is until he meets three witches, Theodora (Mila Kunis), Evanora (Rachel Weisz) and Glinda (Michelle Williams), who are not convinced he is the great wizard everyone's been expecting. Reluctantly drawn into the epic problems facing the Land of Oz and its inhabitants, Oscar must find out who is good and who is evil before it is too late. Putting his magical arts to use through illusion, ingenuity–and even a bit of wizardry–Oscar transforms himself not only into the great and powerful Wizard of Oz but into a better man as well.