'Crouching Tiger, Hidden Dragon' Sequel To Shoot In May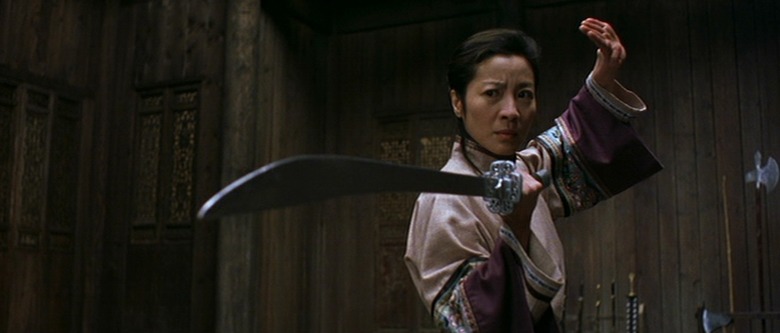 A dozen years after the release of Crouching Tiger, Hidden Dragon, The Weinstein Co. is getting ready to make a sequel. Though it's been a while since we heard about any potential follow-up to Ang Lee's international hit, it looks like the Weinsteins have quietly been making preparations behind the scenes. Production is on track to begin in May, with a script by John Fusco (The Forbidden Kingdom). Ronny Yu (Fearless) is in talks to direct. More details after the jump.
Crouching Tiger was primarily based on the fourth installment of the series, though it also drew from some of the other novels. The sequel will be based on the fifth, titled Iron Knight, Silver Vase. The plot picks up once again with Yu Shu Lien, who was played by Michelle Yeoh in the last film. But it'll bring in plenty of new characters as well, as Fusco explains.
This introduces a new generation of star-crossed lovers, and a new series of antagonists in a battle of good and evil. It has a Knights Errant quality. There is an alternate universe in the books, a martial forest that exists alongside the real world, full of wandering sword fightersm medicine men, defrocked priests, poets, sorcerers and Shaolin renegades. It's so vast and rich, and I found characters from the second and third books in the series to create a most interesting stew while being as true to the source material as I could be.
While we're on the subject of characters, it's not clear at this point whether Yeoh or any of her Crouching Tiger co-stars will reprise their roles. We'll know more once casting gets underway, which won't happen until Yu's deal is closed. Fusco says that we can expect a return from Woo-ping Yuen, who choreographed the thrilling fight scenes in the original film. Fusco and Yuen previously collaborated on Forbidden Kingdom. However — and this one's a bummer — Lee will not be involved in the new film.
Lee's Crouching Tiger exceeded expectations when it became a global sensation, raking in $213.5 million worldwide on a budget of just $17 million. That it's getting a sequel isn't really a surprise, even if it took a while. The new film could have a slightly bigger budget, but not by much; Deadline says only that it's north of $20 million. A release date hasn't been announced yet, but assuming everything goes according to plan we might see it in theaters by 2014.
Discuss: Do you think a Crouching Tiger sequel without Lee is a good idea?