'Oz: The Great And Powerful' Featurette: Meet The Witches And Their Monkey Pal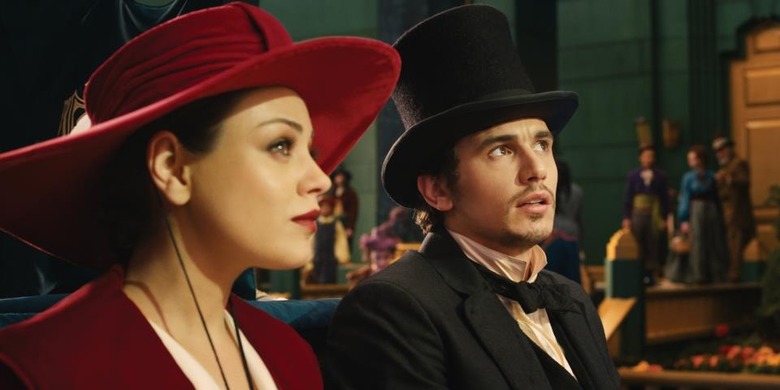 So far, most of Disney's promos for Oz: The Great and Powerful have played up the lush fantasy world created by Sam Raimi, or perhaps the epic tale of James Franco's Oscar Diggs. The newest featurette, however, delves into the movie's more comedic aspects.
Or perhaps that should be "comedic," in quotes, since the jokes are more groanworthy than funny. And they're definitely not any better when delivered by a CG flying monkey. On the bright side, the video does offer some better insight into who the three witches (played by Mila Kunis, Rachel Weisz, and Michelle Williams) are, and what makes each one tick. Watch it after the jump.
In fairness, that voiceover is a huge part of the problem here. This ad seems to be targeted mostly at children, and it's all too successful. While earlier marketing efforts have leaned on the film's similarities to Alice in Wonderland, this one reminds me more of last year's very kid-friendly Mirror Mirror. That's not the worst thing in the world — it was a decent kids' movie — but I'm hoping for something a little more all-ages from Oz: The Great and Powerful.
Raimi generally seems to have a good sense of humor, so hopefully all these cutesy gags work better in context. I'm not sure what he could do to make the talking monkey less annoying, though. Oz: The Great and Powerful opens March 8.
Disney's fantastical adventure "Oz The Great and Powerful," directed by Sam Raimi, imagines the origins of L. Frank Baum's beloved character, the Wizard of Oz. When Oscar Diggs (James Franco), a small-time circus magician with dubious ethics, is hurled away from dusty Kansas to the vibrant Land of Oz, he thinks he's hit the jackpot–fame and fortune are his for the taking–that is until he meets three witches, Theodora (Mila Kunis), Evanora (Rachel Weisz) and Glinda (Michelle Williams), who are not convinced he is the great wizard everyone's been expecting. Reluctantly drawn into the epic problems facing the Land of Oz and its inhabitants, Oscar must find out who is good and who is evil before it is too late. Putting his magical arts to use through illusion, ingenuity–and even a bit of wizardry–Oscar transforms himself not only into the great and powerful Wizard of Oz but into a better man as well.