'The Kings Of Summer' Review: 'Superbad' Meets 'Stand By Me' [Sundance 2013]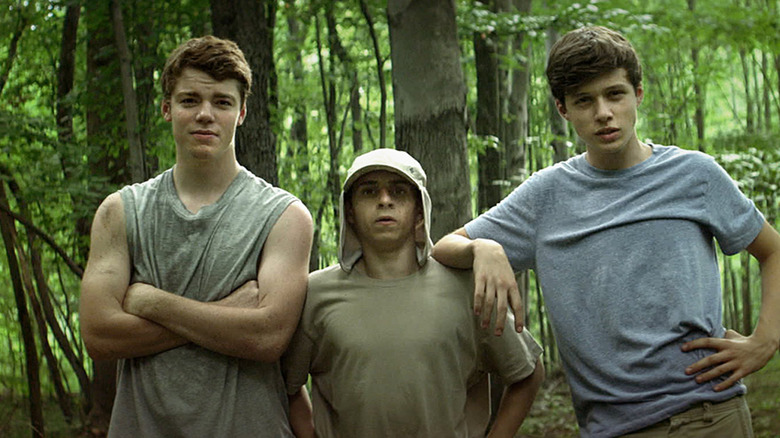 Update: Toy's House was renamed The Kings of Summer, so I've changed the title in this review.
Coming of age stories are a dime a dozen. Good ones are one in a million and The Kings of Summer, written by Chris Galletta and directed by Jordan Vogt-Roberts, is definitely the latter. It's the story of Joe Toy (Nick Robinson) who along with his friend Patrick (Gabriel Basso) and oddball Biaggio (Moises Aries) decide to build their own house in the woods and run away from home. Not a tree house, mind you, a real house with everything except plumbing, electricity and running water.
The true joy in the film, though, comes not just from seeing these kids come into their own, it's with the adult cast, which includes Nick Offerman, Megan Mullally, Alison Brie and Mary Lynn Rajskub. Offerman and Mullally in particular are just spectacularly hilarious, which offsets some of the swings and misses on the part of the kids. Read more after the jump.
Without chemistry between the three leads, there's no way The Kings of Summer could have worked and thankfully, Vogt-Roberts did a great job casting. As Joe, Robinson is funny, charismatic and a relatable hero. The Justin Bieber look alike has bulls-eye comic timing, especially when working with Offerman, who's plays father. At the athletic friend Patrick, Basso is understated but a good balance for the extrovert Joe. And then there's Biaggio. Moises Aries (best known for his work on Hannah Montana and in Nacho Libre, and who'll soon be seen as Bonzo in Ender's Game) delivers a swing for the fences performance as the quirky, weird, third part of the equation. At times, he provides just the right amount of weird and the laughs fly. At other times he's so over the top, the jokes fall flat. Which kind of screws up the great mojo Vogt-Roberts has built over the course of the story.
The Kings of Summer got picked up by CBS films so you'll get a chance to see it at some point and that's definitely something you should do. It's garnered comparisons to Stand By Me, The Goonies or Superbad and while it is similar to those films in specific ways, it's different enough to stand on its own, even if it's not on the same plateau.
/Film rating: 7 out of 10