Bill Hader Is Our Generation's David Hasselhoff, According To 'Baywatch' Reboot Casting; New Plot Details Revealed [UPDATED]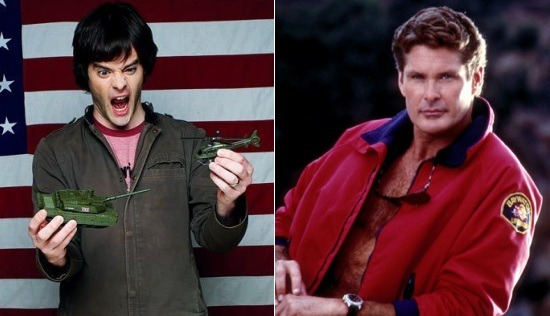 As the saying goes, every generation gets the Hoff it deserves. (That is how the saying goes, right?) And the one we've earned, apparently, is Bill Hader. The Saturday Night Live star has just signed on for the Baywatch reboot, which is being directed by Reno 911! co-creator Robert Ben Garant. Although a few of the series' old stars are expected to make cameo appearances, Hader is the first new star to have signed on. Hit the jump to keep reading.
UPDATE: Collider has reached out to Hader and Ben Garant's rep, who denies that Hader has been cast and says that Ben Garant's script isn't finished yet. We'll keep you posted as we hear more. Original story follows.
Tonally, the new Baywatch movie will be markedly different from the original Baywatch series. Instead, we can expect something more along the lines of Ben Garant's own Reno 911!, which took a mock-serious tone to absurd, exaggerated versions of Cops-like situations. The Baywatch script has gone through a few writers at this point, including Jeremy Garelick (The Break-Up) and Peter Tolan (Rescue Me), with the latest draft coming from Ben Garant himself. In the new plot, the lifeguards discover that an oil rig off the Malibu coast is actually a dangerous meth lab.
Hader's got a very busy 2013 coming up. He has supporting roles in The Disappearance of Eleanor Rigby: His and Hers, The To-Do List, and Larry David's HBO movie Clear History. In addition, he'll be heard in the animated features Cloudy 2: Revenge of the Leftovers and Turbo later this year. A release date for Baywatch has not been set, but production is targeting an April start.