'Iron Man 3' Will Open In IMAX 3D [UPDATED With New Set Videos]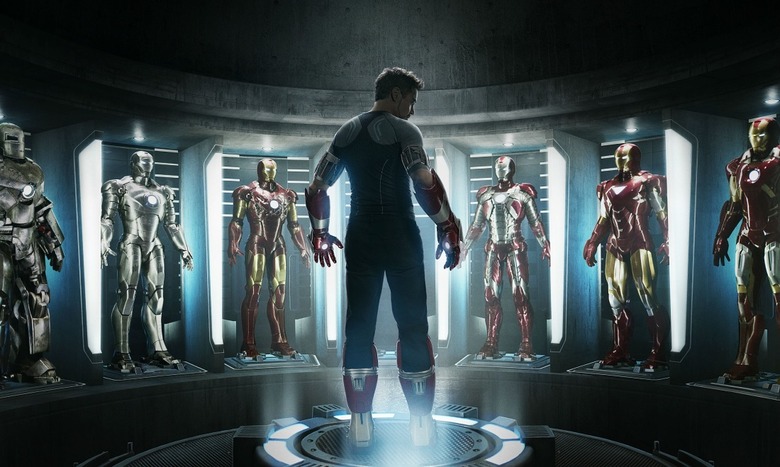 The IMAX 3D release of Iron Man 3 was practically a foregone conclusion. These days, most studio blockbusters of that caliber open in IMAX, 3D, or (increasingly) both, sometimes whether the filmmaker likes it or not. But now it's actually official. IMAX and Marvel have issued a press release announcing that Tony Stark will indeed be flying into the screen in three giant, glorious dimensions this spring.
There are a couple of caveats, however. One is that the film wasn't actually shot in IMAX or 3D, and the other is that it's hitting abroad before it does domestically. Hit the jump to keep reading.
UPDATE: We now have some set videos from Iron Man 3 reshoots that were recently done in Hollywood. We're throwing them in here because of the Iron Man 3 connection, not because the videos have anything to do with IMAX or 3D. But you can feel free to watch them and imagine what the scenes might look like in IMAX 3D, so there is that.
The international IMAX 3D rollout begins April 25, hitting Australia and much of Europe and Asia. Tragically for us American Marvel fans, though, it isn't coming to our shores until May 3. The same date also sees the opening of the non-IMAX, non-3D version of the movie.
Here are the new set videos, which were shot near the TLC Chinese Theater in Hollywood. Some spoilers follow, so don't hit play if you'd rather not know.
[via Coming Soon]
Shane Black directs the latest installment of the Iron Man series, with Robert Downey Jr. once again reprising the role of Tony Stark. Gwyneth Paltrow, Don Cheadle, Rebecca Hall, Guy Pearce, and Ben Kingsley also star. Read the full press release below.
LOS ANGELES, Jan. 22, 2013 /PRNewswire/ – IMAX Corporation (NYSE:IMAX; TSX:IMX), and Marvel Entertainment, a division of The Walt Disney Company (DIS), today announced that Marvel's Iron Man 3™, the latest installment of the film franchise that has grossed more than $1.2 billion at the global box office, will be digitally re-mastered into the immersive IMAX® 3D format and released to IMAX® theatres internationally starting April 25 and domestically on May 3.
Marvel's Iron Man 3 marks the fourth Marvel Entertainment film to be presented in IMAX theatres, following the releases of Iron Man 2 in 2010, Thor in 2011 and Marvel's The Avengers in 2012 – which all delivered record breaking performances in IMAX theatres.
"Marvel and IMAX are a perfect one-two punch and the Iron Man franchise has become a global phenomenon that resonates with fans around the world," said Greg Foster, Chairman and President of IMAX Filmed Entertainment. "We look forward to moviegoers experiencing this highly-anticipated next installment of Tony Stark's latest adventures in IMAX 3D."
"With Iron Man 3 building on the events of Marvel'sThe Avengers, audiences are in for yet another incredible moviegoing experience from Marvel Studios," said Dave Hollis, Executive Vice President of Motion Picture Distribution for The Walt Disney Studios. "We're thrilled to be able to offer that to fans in the larger-than-life action of IMAX 3D."
The IMAX 3D release of Marvel's Iron Man 3 will be digitally re-mastered into the image and sound quality of The IMAX Experience® with proprietary IMAX DMR® (Digital Re-mastering) technology. The crystal-clear images, coupled with IMAX's customized theatre geometry and powerful digital audio, create a unique environment that will make audiences feel as if they are in the movie. You can learn more about Marvel's Iron Man 3 by visiting Marvel's official site athttp://marvel.com/ironman3.
About Iron Man 3
Marvel's Iron Man 3 pits brash-but-brilliant industrialist Tony Stark/Iron Man against an enemy whose reach knows no bounds. When Stark finds his personal world destroyed at his enemy's hands, he embarks on a harrowing quest to find those responsible. This journey, at every turn, will test his mettle. With his back against the wall, Stark is left to survive by his own devices, relying on his ingenuity and instincts to protect those closest to him. As he fights his way back, Stark discovers the answer to the question that has secretly haunted him: does the man make the suit or does the suit make the man?
Starring Robert Downey, Jr., Gwyneth Paltrow, Don Cheadle, Guy Pearce, Rebecca Hall, Stephanie Szostak, James Badge Dale with Jon Favreau and Ben Kingsley, Marvel's Iron Man 3 is directed by Shane Black from a screenplay by Drew Pearce & Shane Black and is based on Marvel's iconic super hero Iron Man, who first appeared in the pages of "TALES OF SUSPENSE #39? in 1963 and had his solo comic book debut with "THE INVINCIBLE IRON MAN #1? in May of 1968.
Marvel's Iron Man 3 is presented by Marvel Studios in association with Paramount Pictures and DMG Entertainment. Marvel Studios' President Kevin Feige is producing and Jon Favreau, Louis D'Esposito, Charles Newirth, Victoria Alonso, Stephen Broussard, Alan Fine, Stan Lee and Dan Mintz are executive producers. The film releases May 3, 2013, and is distributed by Walt Disney Studios Motion Pictures.