'In A World' And 'The Way, Way Back' Reviews: Two Star-Studded, Crowd-Pleasing Comedies [Sundance 2013]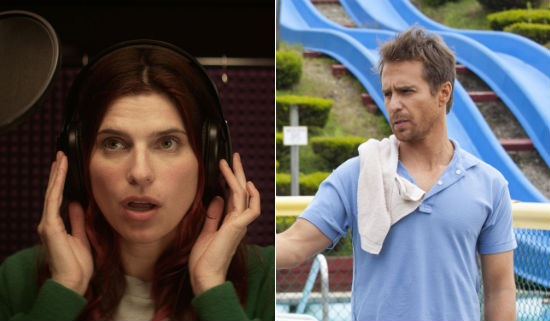 The typical image of  a "Sundance movie" often conjures up one of two things. A long, drawn-out burn with great characters, or the independently-financed comedy destined for box office glory. This post contains my thoughts on two 2013 films in the latter category.
In a World is the feature directorial debut of Lake Bell and it is a film about movie trailers. Seriously. Bell, who is best known for her roles in romantic comedies, not only directed, but wrote and also stars in this film about a woman who makes her way up in the world of Hollywood voice overs. It co-stars Dimitri Martin, Rob Corddry, Ken Marino, Tig Notaro, and Nick Offerman.
The Way, Way Back is also a directorial debut, for Oscar-winning screenwriters Nat Faxon and Jim Rash. Steve Carell, Toni Collette, Allison Janney, Sam Rockwell, AnnaSophia Robb, Maya Rudolph, Rob Corddry (again) and Amanda Peet all help tell the story of a young man coming of age over a summer at the beach.
Both films are incredibly funny, very sweet and worth your time. Read more after the jump.
That Lake Bell could seemingly come out of nowhere and write, direct and star in such a wonderful movie as In A World is incredible. She plays a young woman obsessed with linguistics. Almost by chance, she finds herself among the bigwigs in the movie trailer voiceover game. One of them happens to be her father (Fred Melamed), and another happens to be her father's best friend (Marino), and neither is too keen on having a girl enter their tiny clique.
Bell's comedic timing with the wonderful cast keeps the story interesting and fun, even when it veers off into melodrama. She also packs the film so full of detail, cameos and real life situations that this world feels new and fresh, even through the lens of a conventional narrative. She's a true talent and this wholly entertaining and funny film could keep her behind the camera instead of in front of it.
The same might be said for Nat Faxon and Jim Rash. The writing team, who won Oscars for The Descendants, chose to write and direct The Way, Way Back as a follow up and the effort doesn't disappoint. This isn't The Descendants, mind you. It's a very straightforward coming of age story about a boy named Duncan (Liam James) who is forced to spend the summer at the beach with his divorced mom (Collette) and her new boyfriend (Carell).
What starts off as torture for Duncan slowly gets better as he becomes friendly with the girl next door (Robb) and gets a job at a water park run by Sam Rockwell. Rockwell and Allison Janney, as a perpetually drunk neighbor, steal the movie from the rest of this great cast. Each scene featuring either actor is chock full of laughs. The rest of the movie doesn't fare poorly, either.
Seeing Steve Carell play against type is great, the Massachusetts beach community setting is warm and inviting. The writing is so strong that a few one-note characters still come off as entertaining. The main issue with the film is that, at it's heart, it's about a young nerd becoming a man. And we've seen this movie before. We rarely get to see it with starts this big but it still feel familiar, even with the strong cast, script and direction.
Both In A World and The Way Way Back are the kinds of funny, nice comedies that many audiences never tire of watching.
/Film ratings: 7 out of 10